Knight TouchBar 2000

KITT 2000 chaser animation for your new MacBook Pro TouchBar. You knew you wanted it.
Screenshot
Video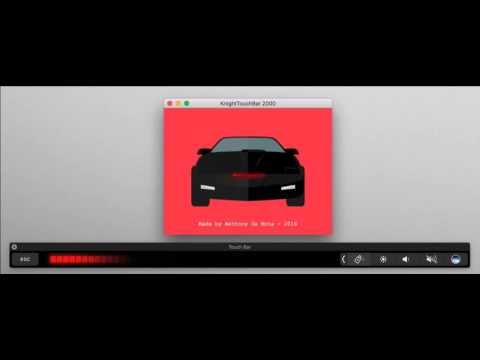 How to use

If you don't want to mess with all the files, you can simply download the latest release of the app here. Launch the app and you're good to go.

Edit: not anymore, you will need to compile it yourself. Sorry!
But wait, I don't have the brand new MacbookPro!

Don't worry, neither do I. However, you can still enjoy this beautiful app by checking this app.
Features
Chaser animation
Knight Rider theme song
Buy me a coffee for all that work!

You think that my work deserves moar coffee? It would be kind from you if you donate a coffee or two (or 3 or 4…). Click here!
Changelog
v1.1.2:

v1.1:

Added the app icon, way cooler now!
Switched from the K2000 ©ed theme song to the scanner sound

v1.0 (Initial release)
Other awesome TouchBar apps
Follow me!