Join GitHub today
GitHub is home to over 31 million developers working together to host and review code, manage projects, and build software together.
Sign up
New issue

Have a question about this project? Sign up for a free GitHub account to open an issue and contact its maintainers and the community.

By clicking "Sign up for GitHub", you agree to our terms of service and privacy statement. We'll occasionally send you account related emails.

Already on GitHub? Sign in to your account
Bugfix - Session Delegate Precondition
#2783
Conversation
This PR removes the URL session delegate precondition check.
Goals ⚽️
Users should be able to create Session instances alongside performance monitoring frameworks such as NewRelic that are swizzling our URLSessionDelegate APIs by proxying.
Implementation Details 🚧
While the session delegate precondition check is a good idea, enforcing the check causes Alamofire to be unusable with other frameworks that are swizzling out URL session delegate APIs. In cases where say Alamofire and NewRelic are being used within the same application, the precondition check will always fail.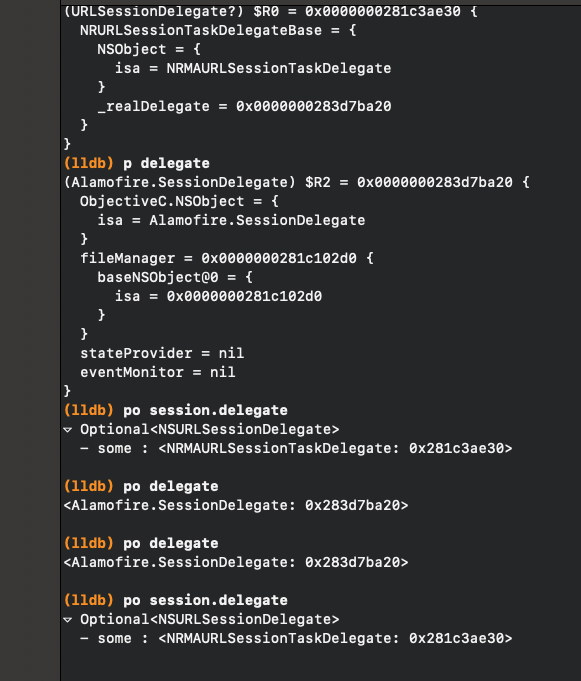 The above example demonstrates what you get when you po the session.delegate and delegate inside the precondition removed in this PR. The session.delegate is an NRMAURLSessionTaskDelegate (courtesy of NewRelic proxy swizzling) and the delegate is an Alamofire.SessionDelegate.
I'm open to other ideas here as well. We could add a flag to disable the precondition that's false by default, but I thought it might be overkill to expose this precondition controls through the public API.
Testing Details 🔍
N/A.
Copy link
Contributor
jshier left a comment
As we discussed, there's no good solution here. I'm okay just removing it for now and seeing if it becomes a problem before implement one of the bad workarounds.
1 check failed
continuous-integration/travis-ci/pr The Travis CI build failed
Details
cnoon deleted the

bugfix/session-delegate-precondition

branch Apr 6, 2019
This comment has been minimized.
Add this suggestion to a batch that can be applied as a single commit.
This suggestion is invalid because no changes were made to the code.
Suggestions cannot be applied while the pull request is closed.
Suggestions cannot be applied while viewing a subset of changes.
Only one suggestion per line can be applied in a batch.
Add this suggestion to a batch that can be applied as a single commit.
Applying suggestions on deleted lines is not supported.
You must change the existing code in this line in order to create a valid suggestion.
Outdated suggestions cannot be applied.
This suggestion has been applied or marked resolved.
Suggestions cannot be applied from pending reviews.