Food-amenities-demand-prediction
Predicting the demand of food amenities using LSTM and 3-layer neural network.
To run the given codes, install Keras with tensorflow backend in your IPython shell (preferably Anaconda).
The .py file is a looping code, while the .ipynb is a test code.
Note - The compiled results and graphs are based on the attempt4.py code, which is not automated for lag selection. The complete_code.py file contains automation for lag selection.
Business Problem
Predicting the demand quantity of food amenities
No input is at disposal, hence the input variables need to be forecasted and then the target variable is regressed through the forecasted input variable
Data Definition
Data Variables and Definition
AvgSP - Average Selling Price of SKU
OP - Average Selling Price of Onion
CustomerCount - Total GT Customers for the given SKU ( = CustomerCount + Missed Customers)
Target Variable - ActualDemand of SKU ( = Ordered Quantity + Missed Demand)
Time Period considered - 17/03/2017 to 22/06/2017
Data Understanding and Processing
Outlier Treatment
Values below 3rd percentile of the sample and above 97th percentile of the sample are converted to their respective buffers
Only @CustomerCount and @ActualDemand are considered for outlier treatment
Summary Statistics
Training and Test Datasets
The last week of the complete dataset is considered for testing while the rest of the dataset is considered for training
Function to create Data Input to model
@AvgSP is predicted using time series forecasting.
Long Short-Term Memory (Recurrent Neural Network) method is used for forecasting. The forecasting problem is now considered as a supervised learning problem where the input is the value prior to the target day.
LSTM is a special type of Neural Network which remembers information across long sequences to facilitate the forecasting.
Forecasting results
@CustomerCount is predicted using the same method as @AvgSP
Forecasting Results
SKU 2 - rmse = 50 Customers
SKU 3 - rmse = 52 Customers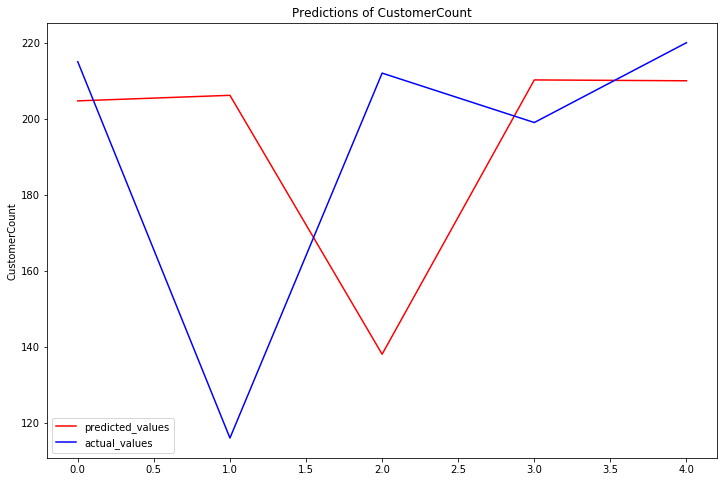 Onion Price is known with good accuracy due to information about the lot size.
Data Modelling
Model Name
3-layer Neural Network using Keras Library (tensorflow backend)
The network is made up of 3 layers:
Input layer
Takes input variables and converts them into input equation
Parameters: no. of neurons (memory blocks) = 16, activation function = linear, weight initializer = normal distribution, kernel and activity regularizer = L1 (alpha = 0.1)
Hidden Layer
The processing (optimization) takes place in this layer.
Parameters: no. of neurons = 8, activation function = linear, weight initializer = normal distribution, kernel and activity regularizer = L1 (alpha = 0.1)
Output Layer
Converts the processed results into a reverse scaled output.
Model Performance
SKU 1 - rmse = 180 Kg
SKU 2 - rmse = 250 Kg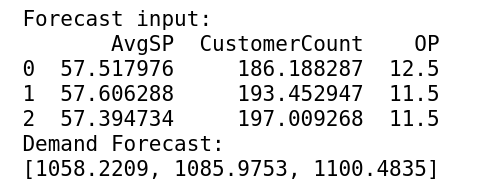 SKU 3 - rmse = 353 Kg