Join GitHub today
GitHub is home to over 40 million developers working together to host and review code, manage projects, and build software together.
Sign up
New issue

Have a question about this project? Sign up for a free GitHub account to open an issue and contact its maintainers and the community.

By clicking "Sign up for GitHub", you agree to our terms of service and privacy statement. We'll occasionally send you account related emails.

Already on GitHub? Sign in to your account
refactor/ui: hide secondary action buttons where applicable & misc ui tweaks
#757
Conversation
Proposed changes
Icon not centered in peer reload button
Ark logo is not squared, looks funky
The arrows of the settings and network popups are misplaced (yellow)
The drop down arrow isn't centered
Icon not centered in clipboard button
To narrow spacing between identicon and text in sign/verify tab
Bottom border on last transaction table row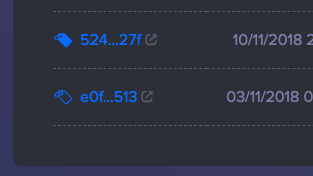 Icon not centered in passphrase reload button
The Save transaction button is off center
This PR also hides the delegate registration and 2nd passphrase buttons if the wallet is already registered or has a 2nd passphrase already.
Types of changes
Refactoring (improve a current implementation without adding a new feature or fixing a bug)
Other... Please describe: UI
Checklist
I have read the CONTRIBUTING documentation
Lint and unit tests pass locally with my changes
dated changed the title [WIP] misc: ui tweaks Dec 15, 2018
1 check passed
ci/circleci: test-node-9 Your tests passed on CircleCI!
Details
dated deleted the

dated:ui-tweaks

branch Dec 16, 2018
Add this suggestion to a batch that can be applied as a single commit.
This suggestion is invalid because no changes were made to the code.
Suggestions cannot be applied while the pull request is closed.
Suggestions cannot be applied while viewing a subset of changes.
Only one suggestion per line can be applied in a batch.
Add this suggestion to a batch that can be applied as a single commit.
Applying suggestions on deleted lines is not supported.
You must change the existing code in this line in order to create a valid suggestion.
Outdated suggestions cannot be applied.
This suggestion has been applied or marked resolved.
Suggestions cannot be applied from pending reviews.