Join GitHub today
GitHub is home to over 40 million developers working together to host and review code, manage projects, and build software together.
Sign up
New issue

Have a question about this project? Sign up for a free GitHub account to open an issue and contact its maintainers and the community.

By clicking "Sign up for GitHub", you agree to our terms of service and privacy statement. We'll occasionally send you account related emails.

Already on GitHub? Sign in to your account
sp_BlitzFirst: index reorgs reported as CHECKDB running
#2062
Comments
Version of the script
SELECT @Version = '7.5', @VersionDate = '20190427';
What is the current behavior?
During index reorgs (but not rebuilds), sp_BlitzFirst reports that CHECKDB is running. The reason why is that in sys.dm_exec_requests, ALTER INDEX REORGANIZE shows up with command = 'DBCC'. This same behavior doesn't happen with ALTER INDEX REBUILD, which shows up correctly.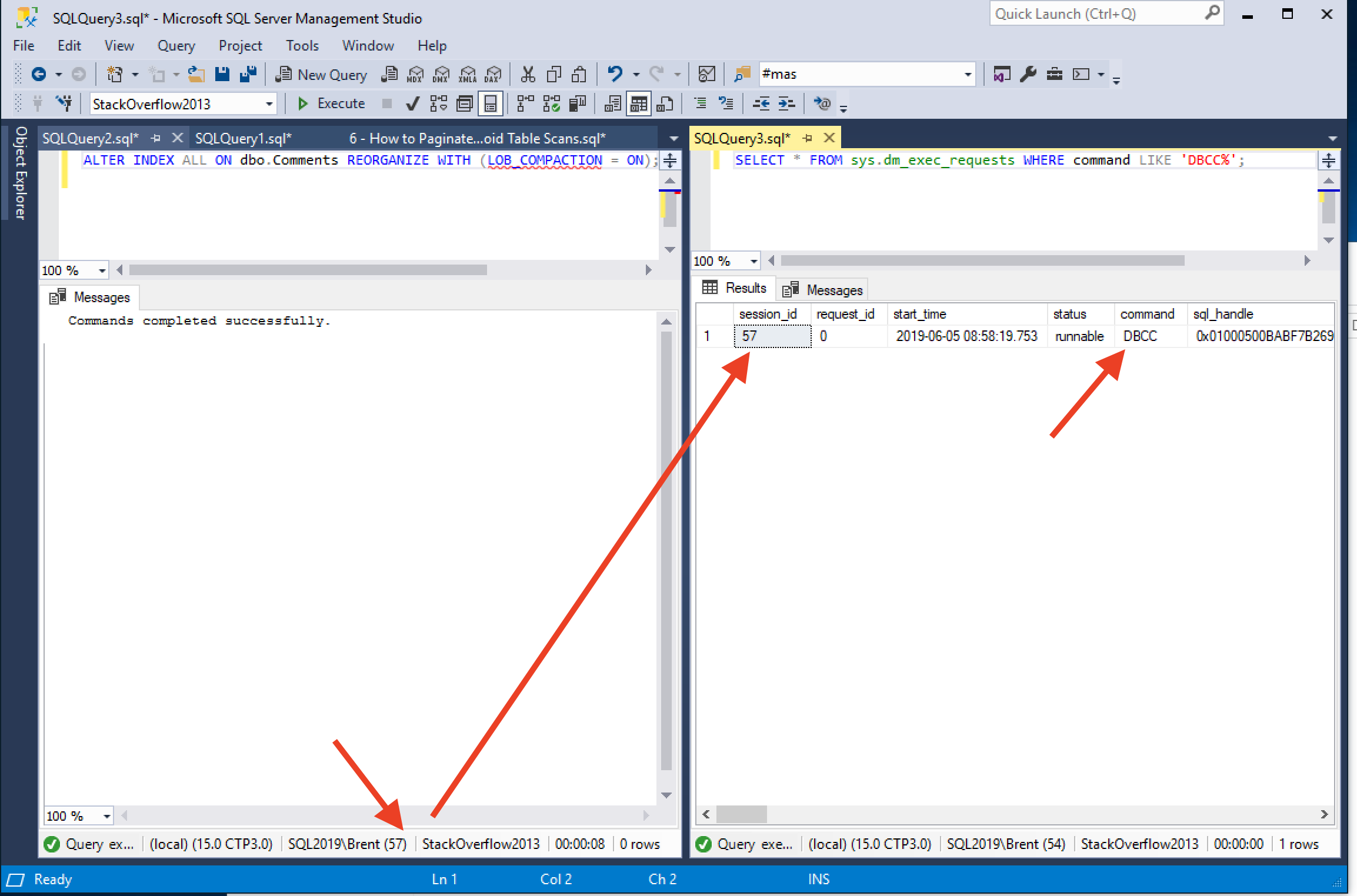 The relevant portions of the sp_BlitzFirst code are:
    WHERE r.command LIKE 'DBCC%'
	AND CAST(t.text AS NVARCHAR(4000)) NOT LIKE '%dm_db_index_physical_stats%';


We'll need to find more ways to filter when sys.dm_exec_requests is a lying liar. (I'm not going to bother filing a SQL Server bug for this since we'll still need to support older/unpatched versions of SQL Server.)
Forgot to mention - shout-out to @BlitzErik for finding this.
This is a really duct-tape way of fixing it, and it's not going to work in all situations:
SELECT * 
  FROM sys.dm_exec_requests r
  CROSS APPLY sys.dm_exec_sql_text(r.sql_handle) t
  WHERE r.command LIKE 'DBCC%'
    AND t.text NOT LIKE '%ALTER INDEX%';