Join GitHub today
GitHub is home to over 40 million developers working together to host and review code, manage projects, and build software together.
Sign up
New issue

Have a question about this project? Sign up for a free GitHub account to open an issue and contact its maintainers and the community.

By clicking "Sign up for GitHub", you agree to our terms of service and privacy statement. We'll occasionally send you account related emails.

Already on GitHub? Sign in to your account
Consider a property for submission of URLs
#605
Comments
Example: https://credentialengine.org/publisher/credential/2597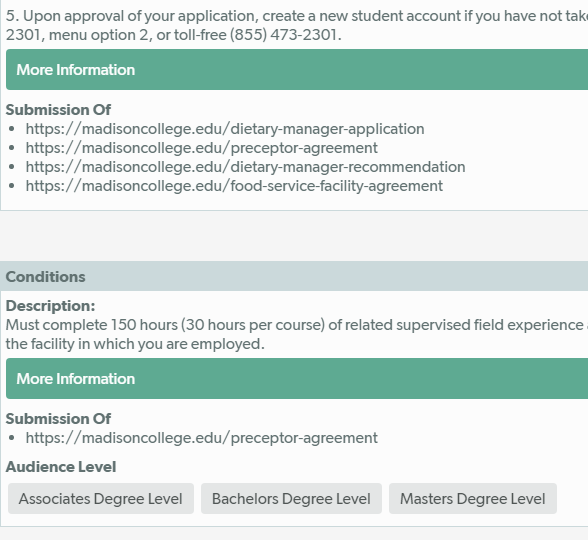 Currently the https://credreg.net/ctdl/terms/submissionOf property has a range of rdf:langString. It would be useful to be able to indicate URLs as values for either this property or a similar property.
Consider either:
Expanding the range of ceterms:submissionOf to include xsd:anyURI

This may have implications for the @context's designation of the property as being either rdf:langString or @id, which may complicate implementations and cause bugs in existing systems

Creating a new property that is functionally identical to ceterms:submissionOf, but with a range of xsd:anyURI

This feels more redundant, but will be much more compatible with both JSON-LD and existing data/systems
Per our 6-4-2019 meeting:
This should likely be handled via a new property.
Per our 7-16-2019 meeting:
Change the range of ceterms:submissionOf from rdf:langString to xsd:anyURI
Create a new property, ceterms:submissionOfDescription
Republish data currently using submissionOf to use submissionOfDescription
Ensure that the note in the changes for this is very noticeable
Remove:
URI: ceterms:submissionOf
Range: rdf:langString
Add:
URI: ceterms:submissionOf
Range: xsd:anyURI
New property:
URI: ceterms:submissionOfDescription
Label: Submission Of Description
Definition: Name, label, or description of an artifact to be submitted such as a transcript, portfolio, or an affidavit.
Domain: ceterms:ConditionProfile
Range: rdf:langString
These changes have been made in pending CTDL and noted in the history tracking.