Join GitHub today
GitHub is home to over 28 million developers working together to host and review code, manage projects, and build software together.
Sign up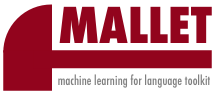 How to find MALLET in DH Box
You can access the bash shell at xx.xxx.xxx.xxx:4200. Once there, input your DH Box username and password and then access MALLET. The files are located under /dhbox/MALLET/bin
Overview
MALLET is a Java-based package for statistical natural language processing, document classification, clustering, topic modeling, information extraction, and other machine learning applications to text.
MALLET site
[MALLET: MAchine Learning for LanguagE Toolkit] (http://mallet.cs.umass.edu/)
Documentation
[MALLET Documentation] (http://mallet.cs.umass.edu/download.php)
Tutorials
[Machine Learning with MALLET by David Mimno] (http://mallet.cs.umass.edu/mallet-tutorial.pdf)
[The Programming Historian "Getting Started with Topic Modeling and MALLET" by Shawn Graham, Scott Weingart, and Ian Milligan] (http://programminghistorian.org/lessons/topic-modeling-and-mallet)
Examples
[Topic Modeling Martha Ballard's Diary by Cameron Blevins] (http://historying.org/2010/04/01/topic-modeling-martha-ballards-diary/)
[Mining the Dispatch by Rob Nelson] (http://dsl.richmond.edu/dispatch/)