Join GitHub today
GitHub is home to over 40 million developers working together to host and review code, manage projects, and build software together.
Sign up
New issue

Have a question about this project? Sign up for a free GitHub account to open an issue and contact its maintainers and the community.

By clicking "Sign up for GitHub", you agree to our terms of service and privacy statement. We'll occasionally send you account related emails.

Already on GitHub? Sign in to your account
HTML-encode file names in AjaxFileUpload
#483
Conversation
On Linux and Mac, it's possible to use unsafe HTML characters in file names. File names are not encoded in the AjaxFileUpload.js script.
Technically, it's an XSS vulnerability. However, the attack vector is very limited. Pre-conditions:
An end-user initiates the upload of a file with malicious code contained within its name.
Non-Windows server (e.g. Mono on Linux).
ASP.NET request validation is disabled for the request.
A temp file name generated by AjaxFileUpload is displayed without encoding to another user.
On Window servers, malicious file names always cause a server-side error thanks to invalid characters checks:
Therefore, malicious code can only be executed in the same browser session in which the file is uploaded.
This PR:
Adds file name HTML encoding on the client.
Explicitly adds unsafe HTML chars to the invalid list, in addition to Path.GetInvalidFileNameChars.
---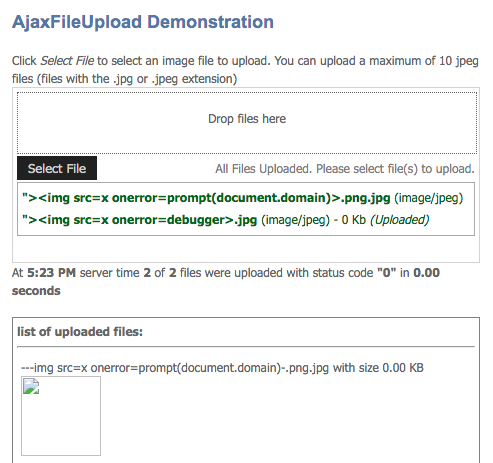 Do we also need to replace the single ' quote character as well here?
This comment has been minimized.
There's a discussion about escaping single quote: https://webmasters.stackexchange.com/q/12335. Sometimes it's important to HTML-encode it.
My motivation:
I'm introducing Sys.Extended.UI.htmlEncode as a generic helper that can be used in other places. It's better to over-encode in it.
For a file name, single quote is fine (What's New.txt). That's why I skipped it.
1 check passed
continuous-integration/appveyor/pr AppVeyor build succeeded
Details
Add this suggestion to a batch that can be applied as a single commit.
This suggestion is invalid because no changes were made to the code.
Suggestions cannot be applied while the pull request is closed.
Suggestions cannot be applied while viewing a subset of changes.
Only one suggestion per line can be applied in a batch.
Add this suggestion to a batch that can be applied as a single commit.
Applying suggestions on deleted lines is not supported.
You must change the existing code in this line in order to create a valid suggestion.
Outdated suggestions cannot be applied.
This suggestion has been applied or marked resolved.
Suggestions cannot be applied from pending reviews.