Join GitHub today
GitHub is home to over 31 million developers working together to host and review code, manage projects, and build software together.
Sign up
New issue

Have a question about this project? Sign up for a free GitHub account to open an issue and contact its maintainers and the community.

By clicking "Sign up for GitHub", you agree to our terms of service and privacy statement. We'll occasionally send you account related emails.

Already on GitHub? Sign in to your account
Test support for OctoPrint / OctoPi with Ultimaker
#1065
Comments
I've (finally) been playing with OctoPrint on my Creality CR-10S and I really like it.
OpenSource, nice features, seems pretty standard (e.g. Slic3r supports it natively).
Loads of plugins, such as MQtt support to publish printer events.
I recall talking to somebody or other, perhaps @amcewen about this but can't remember if there are blockers.
I quite fancy testing out OctoPi support for an Ultimaker to support
PiCam, timelapse videos of prints
Costings
MQtt reporting of print states
Remote uploads / print control
MakeSpace workshop usage metrics
Thoughts / Advice ? Thx x
Copy link
Contributor
Author
It was surprisingly easy to set up OctoPrint on Prints Adam.
Raspberry Pi 3
Download of OctoPi
Ran through the wizard
Connected a USB cable to the Ultimaker USB port
Then I sliced a 3DBenchy through Sli3R and uploaded/started printing direct from Slic3R.
During the print the Ultimaker shows "Printing from USB" then when the print has finished reverts to it's normal interface so the existing SD Card / local control is unaffected.
With OctoPi we can do all sorts of things
Information on sizes / costs of print
Webcam monitoring of prints in real time
Capture of webcam movies of builds
MQTT publication of messages relating to start/stop/movement/bed etc.
Realtime G-Code display
"Watched folder" to print dropped files
Plugin architecture for extensibility
Seems really nice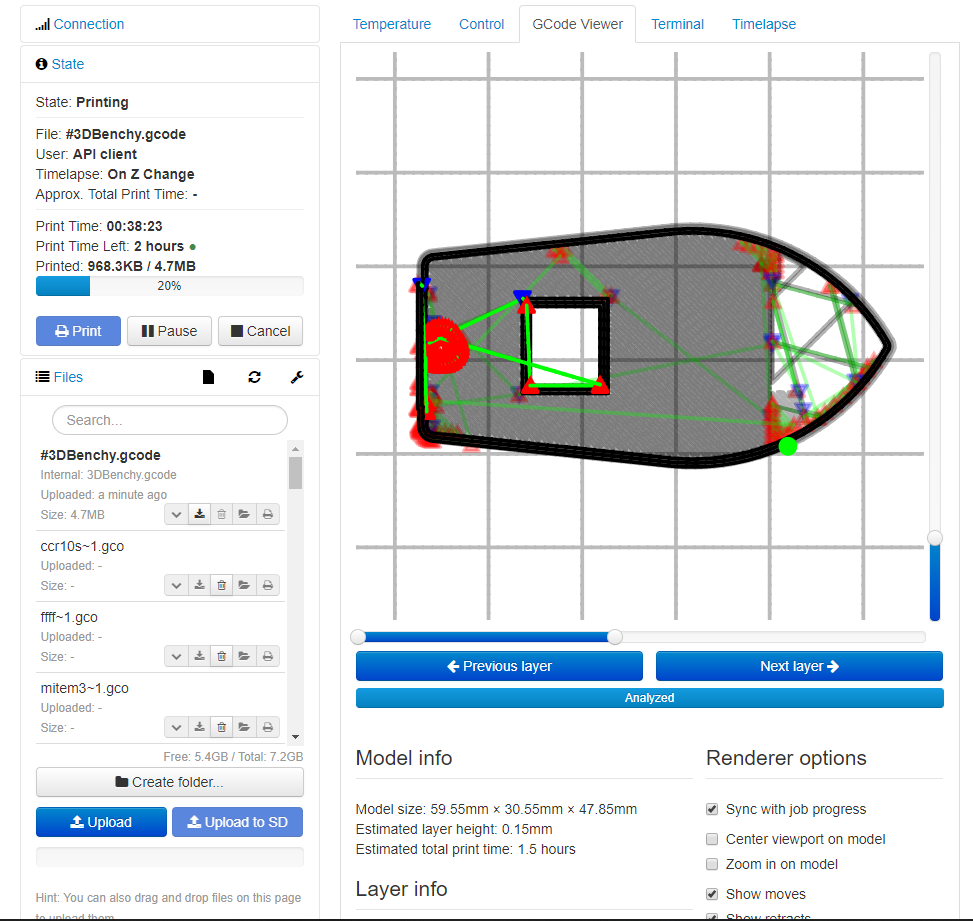 Copy link
Contributor
Author
@MatthewCroughan @goatchurchprime et al
You can find the RPi as octopi-adam.local running its web server on the usual port 80
Login as doesuser with the standard wifi password
Glad to see you got it set up, some tips from my use at home:
People* advise against using the inbuilt slicer, it's quite out of date
Some plugins I think would be of value:
Copy link
Contributor
Author
Those are brilliant thanks @Pezmc !
I did run into some trouble with the Ultimaker over the weekend. Getting CRC errors or something. Will have to investigate...
Copy link
Contributor
Author
The more I look at OctoPrint / OctoPi the more I like it.
I have those plugins on there thanks @Pezmc and particularly like the filament management stuff.
I have the webcam streamer streaming up to YouTube too.
Lovely stuff