Amplitude.js is a lightweight JavaScript library that allows you to control the design of your media controls in your webpage -- not the browser. Amplitude.js is available under the MIT License.
This Version is modified by me, the Player add automatic all Audiofiles in a Playlist, to listen your Songs directly.
Demo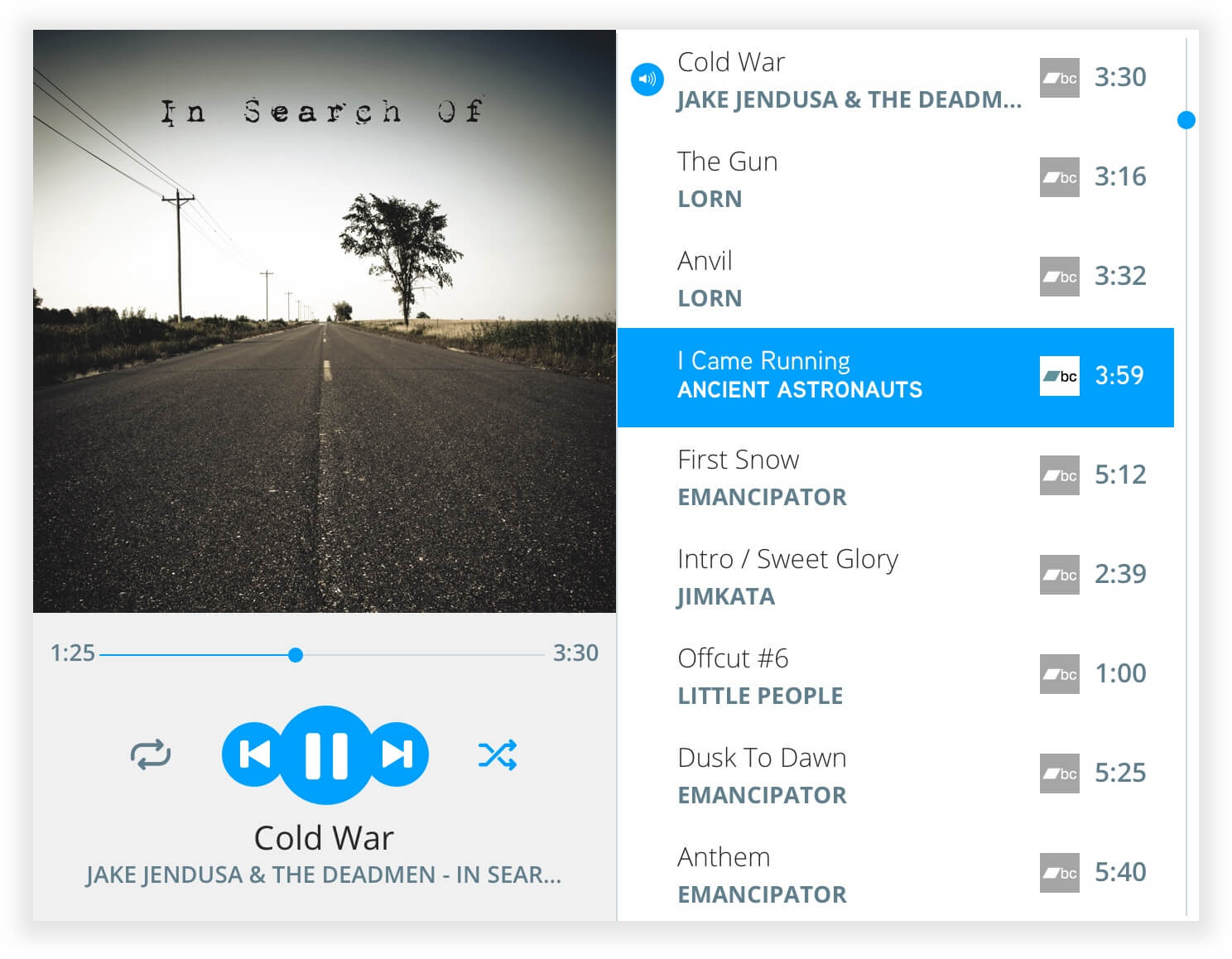 Click the image above to go to the demo site or click here.
Features
100% customizable design of all player elements
Multiple playlist support on single page
Playlist without Database just PHP glob
Song meta data display
Mobile Device Optimized
Soundcloud integration
Live streaming support (IceCast2)
Call back functions for events

Play/Pause
Stop
Next Song
Previous Song
Shuffle
Browsers support
| IE / Edge | Firefox | Chrome | Safari | Opera |
| --- | --- | --- | --- | --- |
| IE11, Edge | 4.0+ | 3.5+ | 4.0+ | 10.5+ |
Installation
Copy all Source on your Webserver with PHP (tested with 7.1)
Open "includes/config.php" and setup the URLs
All Songs will automatic read from "library" directory
Optional: Reconfigure your vhost with the Example Rewrite Settings (NGINX Webserver)
Open your URL
http://yourURL.de/player.php or with Subfolder & Start Song ID add ?folder=SubFolders&id=0 as Paraemter in your URL.
e.g.

Optional: ?isLive=true&url=http://radiostreamURL.de to set a Radiostream without touch the Config.php.
Troubleshooting / Issues
Yes, RadioStats works just with IceCast2
Yes, much Songs over 1000 Tracks could break or overkill PHP Process.
Clipboard is currently not working, I figure out the Problem currently.
Libraries

AmplitudeJS, this nice HTML5 Audio Player

Materialize, a CSS Framework based on material design

clipboard.js, Clipboard Function

jquery.nicescroll, Scrolling looks nice