shanejonas released this Jun 25, 2018 · 241 commits to master since this release
Added
Improvements
Removed description field for accounts. #586
Upgraded React version 15.6.1 to 16.2.0
Improved UI for hiding an account. #589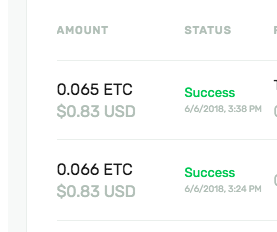 Fixed
---
Download and verify:
Keep in mind that this software may have access to sensitive financial data, and many hacker groups are trying to compromise your security. Please make sure you verify the downloaded binary with PGP/GPG.
To verify a release with a signature:
First, make sure you have a gpg tool installed, eg. gnupg or gnupg2.
Then ensure you have imported the signing signature. ETCDEV and ETC volunteer PGP keys are available here.
$ git clone https://github.com/ethereumproject/volunteer.git
$ 

cd

 volunteer/Volunteer-Public-Kyes
$ gpg --import 

*

.pub
Finally, verify the signature of the executable or archive:
$ gpg --verify EmeraldWallet-win-xxxxxxxx.exe.sig
---
Getting Started with Emerald Wallet
The Emerald Wallet is an Ethereum Classic Wallet part of a broader project known as the Emerald Platform. All releases of Emerald Wallet can be located on Github. See Getting Started with Emerald Wallet for more info.
---
Disclaimer: Please do not keep or transact more than you are willing to lose, and please be careful. Please use a hardware wallet such as Ledger Nano S together with Emerald Wallet. If something were to happen, we are sorry, but we are not responsible for any lost ETC.
---
We are extremely grateful to the many volunteers and members of our community for their ongoing contributions.