Join GitHub today
GitHub is home to over 28 million developers working together to host and review code, manage projects, and build software together.
Sign up
New issue

Have a question about this project? Sign up for a free GitHub account to open an issue and contact its maintainers and the community.

By clicking "Sign up for GitHub", you agree to our terms of service and privacy statement. We'll occasionally send you account related emails.

Already on GitHub? Sign in to your account
Feature request to suppress dialogs about MySQL warnings
#234
Comments
Steps to reproduce this issue
Execute any SQL query that throws a MySQL warning. Examples depend on server config as to what triggers a warning.
Current behavior
Warning is repeated or summarized in a modal dialog box that prevents further action until I click OK.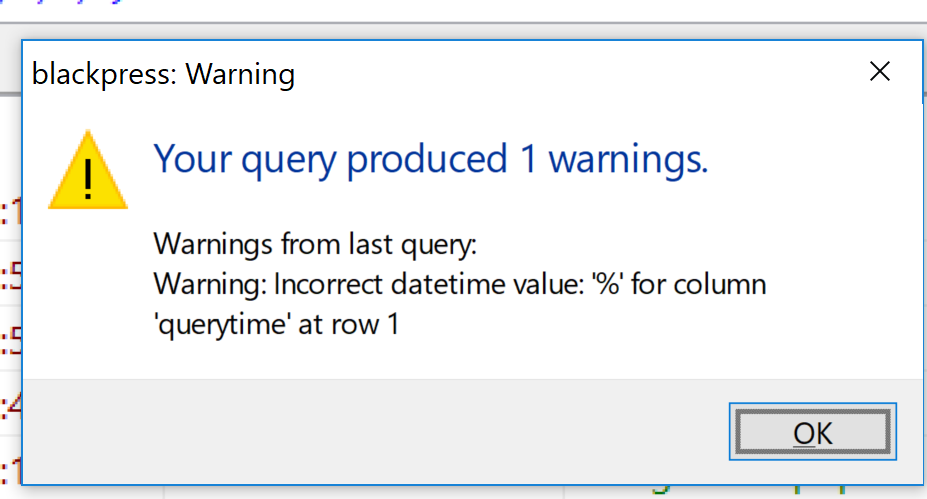 Expected behavior
I would like to choose which warnings merit my attention by watching the query log at the bottom of the HeidiSQL window. I don't expect to have to click OK as often as HeidiSQL wants me to with respect to these warnings.
I am aware that I could reconfigure my MySQL servers to suppress my most common warnings but that's a lot of work with more than 100 servers.
Possible solution
Add a user preference to disable dialog-box presentation of MySQL warnings.
Environment
Windows 10.
HeidiSQL version:
9.5.0.5196 (64 bit)

Database system and version:
MySQL 5.5, 5.6

Operating system:
Ubuntu Linux 14.04 LTS
THANK YOU AGAIN!!!
The dialog should have a checkbox "Keep showing this dialog", which can be unchecked to disable it for the future. Also, the preferences dialog has a checkbox to reactivate it again.
That's a shrewd way to do it, so the suppression option is exposed without requiring that the user know about the toggle in the prefs panels.
Many many thanks!
Just had to look up the word "shrewd". Nice to get some new words from time to time.
However, thanks for your feedback!