Join GitHub today
GitHub is home to over 28 million developers working together to host and review code, manage projects, and build software together.
Sign up
New issue

Have a question about this project? Sign up for a free GitHub account to open an issue and contact its maintainers and the community.

By clicking "Sign up for GitHub", you agree to our terms of service and privacy statement. We'll occasionally send you account related emails.

Already on GitHub? Sign in to your account
Builds after 5382 crash on startup, due to unsupported D2DFactory
#445
Comments
Steps to reproduce this issue
Download the 64-bit build 5382.
Run it under Wine in Linux.
It crashes on startup.
Builds up to 5380 start fine.
Current behavior
It crashes on startup. Attached screenshot: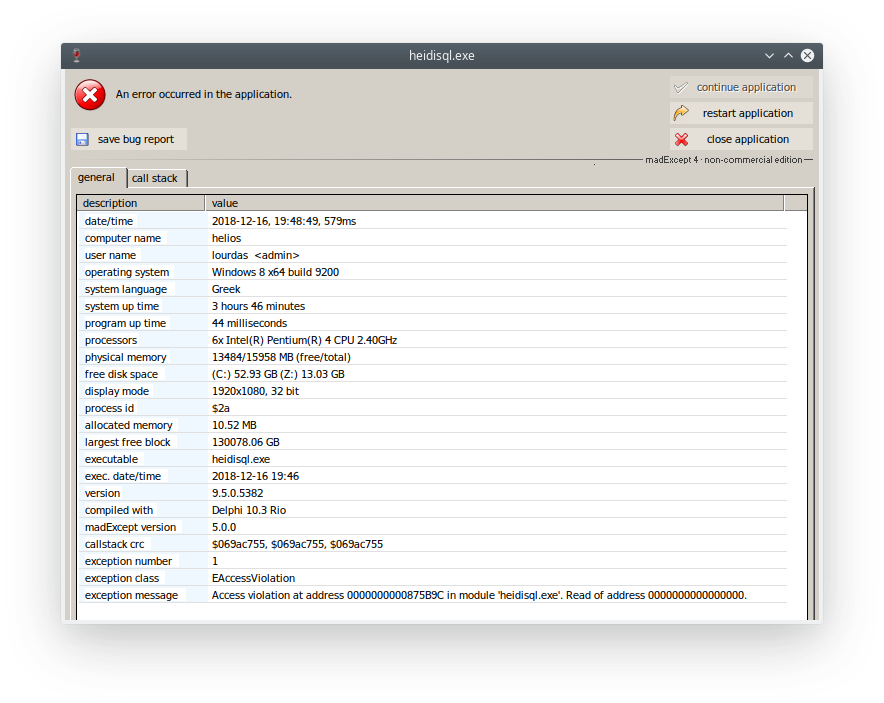 Expected behavior
It should start normally.
Possible solution
None.
Environment
64-bit Linux, kernel 4.19.9, KDE, Wine is 3.21.
I'm attaching the bug report. Tried from the build 5382.
bugreport.txt
ansgarbecker changed the title Builds after 5382 crash on startup on Linux Dec 16, 2018
Related: SynEdit/SynEdit#91
Crash is the same as under Windows XP and Windows Server 2003.
Workaround for Wine could be to emulate Windows 7, not XP? No clue if Wine can do that.
Probably closed a bit in hope this is fixed now. I just found a switch for disabling the use of DirectWrite in SynEdit, and pushed that change. So please check if Heidi runs again on Wine.
Just upgraded to build 5418 and it works! No crash! Thank you Ansgar!