Join GitHub today
GitHub is home to over 28 million developers working together to host and review code, manage projects, and build software together.
Sign up
New issue

Have a question about this project? Sign up for a free GitHub account to open an issue and contact its maintainers and the community.

By clicking "Sign up for GitHub", you agree to our terms of service and privacy statement. We'll occasionally send you account related emails.

Already on GitHub? Sign in to your account
Add informative log message when maximum result sets exceeded
#73
Comments
Expected behavior
Show result tab for every query that returns any data.
Current behavior
Only first 10 result tabs are present to view selected data, but all queries are executed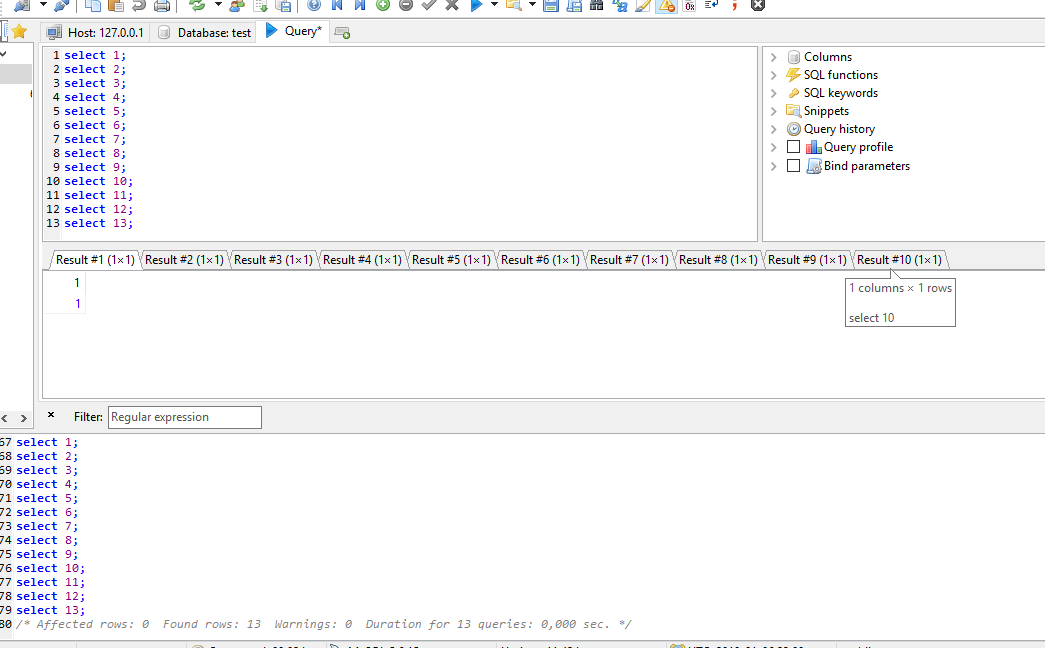 Steps to reproduce
search in database for anything that will be present in more than 10 tables and click button to se results or execute more than 10 selects in query tab:
select 1;
select 2;
select 3;
select 4;
select 5;
select 6;
select 7;
select 8;
select 9;
select 10;
select 11;

Context
HeidiSQL version: 9.5.0.5216 (64bit)
Database system + version: MySQL 5.6.15
Operating system: 10.0.16299.192
This comment has been minimized.

Show comment

Hide comment
This is definitely a feature, not a bug :) If you look at Tools > Preferences > SQL, you will find a setting called "Maximum result sets", which defaults to 10. You can increase this to get more results. It is important to limitate the number, for cases in which the user loads some huge scripts with thousands of SELECTs.
I only think when the maximum has been exceeded, some log message should appear in the log panel.
ansgarbecker changed the title from
Only first 10 result tabs present for multiple queries

to

Add informative log message when maximum result sets exceeded

Jan 7, 2018
This comment has been minimized.

Show comment

Hide comment