Join GitHub today
GitHub is home to over 28 million developers working together to host and review code, manage projects, and build software together.
Sign up
New issue

Have a question about this project? Sign up for a free GitHub account to open an issue and contact its maintainers and the community.

By clicking "Sign up for GitHub", you agree to our terms of service and privacy statement. We'll occasionally send you account related emails.

Already on GitHub? Sign in to your account
[ SALT package manager ] Item description in Salt package manager missing on Linux
#144
Comments
In Salt package manager on Linux, the item description for all items is missing.
On Windows this problem does not exist.
KLayout was built with the sources from https://github.com/klayoutmatthias/klayout/tree/v0.25.3
with the following command: ./build.sh ( -qt5 )
Here is how it looks like on Linux ( openSUSE Leap 42.3 / openSuse Leap 15 ):
... and how it looks like on Windows ( Windows 10 ):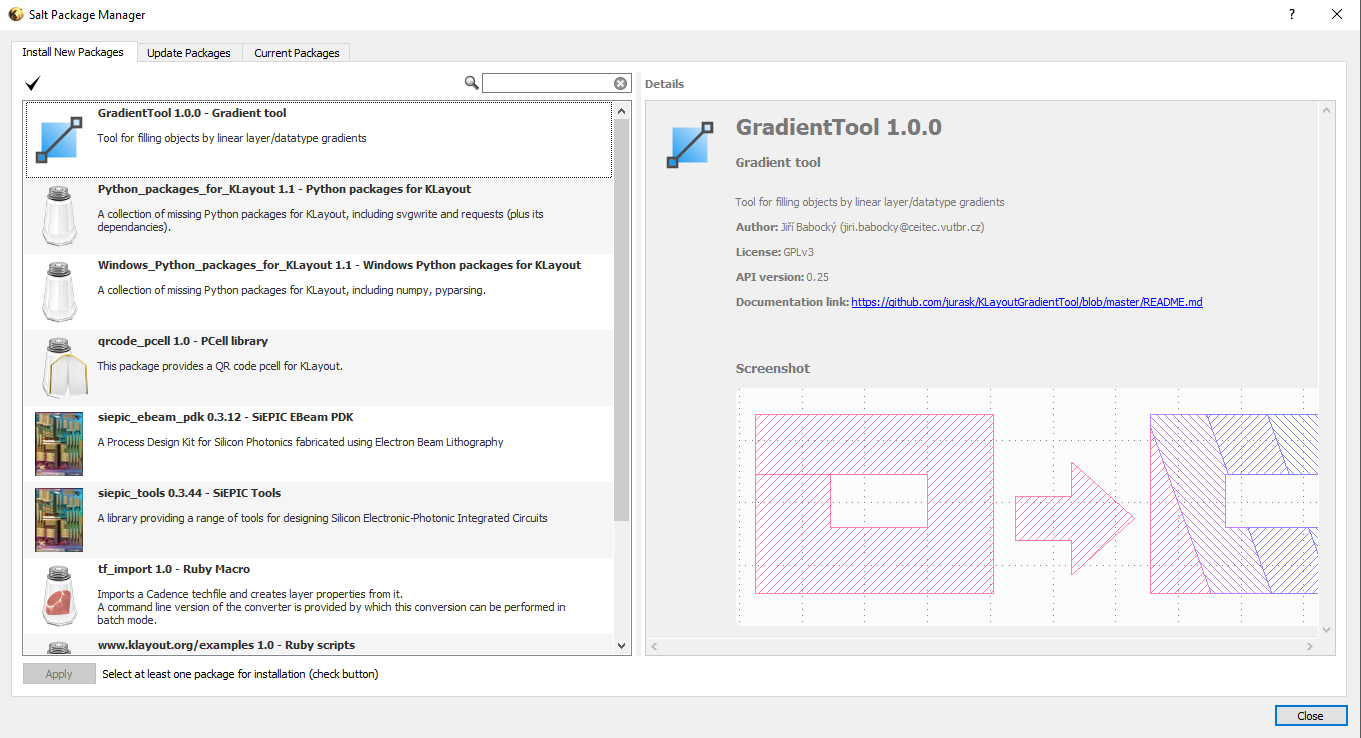 What is the reason for this strange behavior ?
Hi,
this is strange - I do see the descriptions. I use Ubuntu 16.04.
Maybe it's specific to Qt5 and/or OpenSuSE. I'll take a look.
Thanks,
Matthias
philippm1988 changed the title Item description in Salt package manager missing on Linux Jul 27, 2018
Hi Phillip,
I have just built KLayout on plain OpenSuSE 42.3 with Qt 4.8.6, Ruby 2.1.0 and Python 3.4. I don't see that issue myself.
I have postponed OpenSuSE 42.3 support because I saw some issues in the test suite. They seem to be fixed now, so I may be able to provide an RPM for this.
But this means it's not OpenSuSE or the compiler, but my guess is Qt5. Which is the Qt5 version you used?
Thanks,
Matthias
Hi Matthias,
I build it on openSuse Leap 15 with the standard packages and Qt 5.9 ( libqt5-qtbase, libqt5-qtmultimedia, ... ) with the option -qt5.
I got the same result when using Qt4 ( libqt4, libqt4-devel )
Would be great if you can have a look and if possible provide an rpm for openSuse Leap 15 too !
Thanks,
Philipp
I just found how to reproduce the issue!
It's related to Motif style. Apparently you're on Motif style by default. If you use a different style (e.g. "klayout -style gtk+" or "klayout -style cleanlooks"), the descriptions become visible.
I'll check whether I can fix this quickly.
Best regards,
Matthias
P.S: Wenn Du derjenige bist, den ich im Netz finde, dann sind wir quasi Nachbarn - ich wohne südlich vom Rosenheimer Platz :-)
Hi Matthias,
for OpenSuse 15, the item descriptions in package manager are shown now, but after I installed the above rpm on the latest OpenSuse 15 version, i get the following error each time I close klayout (x):
ERROR: Signal number: 11
Address: 0x0
Program Version: KLayout 0.25.4 (2018-07-31 r5efe5d20)
Backtrace:
/usr/lib64/klayout/libklayout_lay.so.0 +0x2b58e0 lay::enable_signal_handler_gui(bool) [??:?]
/lib64/libpthread.so.0 +0x122e0 __restore_rt [??:?]
/usr/lib64/qt4/plugins/inputmethods/libqimsw-multi.so +0x2c93 ?? [??:0]
/usr/lib64/qt4/plugins/inputmethods/libqimsw-multi.so +0x2d3e ?? [??:0]
/usr/lib64/libQtGui.so.4 +0x24b2be QApplicationPrivate::_q_alertTimeOut() [??:?]
/usr/lib64/libQtGui.so.4 +0x1da12d QApplication::~QApplication() [??:?]
/usr/lib64/klayout/libklayout_lay.so.0 +0xeb8e9 lay::GuiApplication::~GuiApplication() [??:?]
klayout +0x2d15
/usr/lib64/klayout/libklayout_rba.so.0 +0x1e970
/usr/lib64/libruby2.5.so.2.5 +0x1ab9d1
/usr/lib64/libruby2.5.so.2.5 +0x1bed83
/usr/lib64/libruby2.5.so.2.5 +0x1b5a40
/usr/lib64/libruby2.5.so.2.5 +0x1bafed
/usr/lib64/libruby2.5.so.2.5 +0x97454
/usr/lib64/libruby2.5.so.2.5 +0x9928d ruby_exec_node
/usr/lib64/libruby2.5.so.2.5 +0x9b65e ruby_run_node
/usr/lib64/klayout/libklayout_rba.so.0 +0x1eec4 _ZN3rba15RubyInterpreter10initializeERiPPcPFiS1_S3_E
klayout +0x2674
/lib64/libc.so.6 +0x20f4a __libc_start_main
klayout +0x278a
Hi Michael, sorry for the late reply. I found time now to play with a blank OpenSuSE 15 installation, but I failed to reproduce the issue. This is my configuration: * Plain Docker image: opensuse/leap:15 on Ubuntu-16.04.4LTS host * X11 enabled (see
http://fabiorehm.com/blog/2014/09/11/running-gui-apps-with-docker/
) * Packages installed: openssh java-1_8_0-openjdk rpm-build xvfb-run sudo wget lato-fonts * Download image from:
http://www.klayout.org/downloads/staging/opensuse15/klayout-0.25.4-0.x86_64.rpm
* After install run with "Qt_X11_NO_MITSHM klayout" I can install packages and quit KLayout without error messages. So the problem seems to be a configuration issue. From the stack trace I'd say it's related to /usr/lib64/qt4/plugins/inputmethods/libqimsw-multi.so - but these traces can be misleading. Kind regards, Matthias Quoting Philipp Michelfeit <notifications@github.com>:
…
Hi Matthias, for OpenSuse 15, the item descriptions in package manager are shown now, but after I installed the above rpm on the latest OpenSuse 15 version, i get the following error each time I close klayout (x): ERROR: Signal number: 11 Address: 0x0 Program Version: KLayout 0.25.4 (2018-07-31 r5efe5d20) Backtrace: /usr/lib64/klayout/libklayout_lay.so.0 +0x2b58e0 lay::enable_signal_handler_gui(bool) [??:?] /lib64/libpthread.so.0 +0x122e0 __restore_rt [??:?] /usr/lib64/qt4/plugins/inputmethods/libqimsw-multi.so +0x2c93 ?? [??:0] /usr/lib64/qt4/plugins/inputmethods/libqimsw-multi.so +0x2d3e ?? [??:0] /usr/lib64/libQtGui.so.4 +0x24b2be QApplicationPrivate::_q_alertTimeOut() [??:?] /usr/lib64/libQtGui.so.4 +0x1da12d QApplication::~QApplication() [??:?] /usr/lib64/klayout/libklayout_lay.so.0 +0xeb8e9 lay::GuiApplication::~GuiApplication() [??:?] klayout +0x2d15 /usr/lib64/klayout/libklayout_rba.so.0 +0x1e970 /usr/lib64/libruby2.5.so.2.5 +0x1ab9d1 /usr/lib64/libruby2.5.so.2.5 +0x1bed83 /usr/lib64/libruby2.5.so.2.5 +0x1b5a40 /usr/lib64/libruby2.5.so.2.5 +0x1bafed /usr/lib64/libruby2.5.so.2.5 +0x97454 /usr/lib64/libruby2.5.so.2.5 +0x9928d ruby_exec_node /usr/lib64/libruby2.5.so.2.5 +0x9b65e ruby_run_node /usr/lib64/klayout/libklayout_rba.so.0 +0x1eec4 _ZN3rba15RubyInterpreter10initializeERiPPcPFiS1_S3_E klayout +0x2674 /lib64/libc.so.6 +0x20f4a __libc_start_main klayout +0x278a -- You are receiving this because you modified the open/close state. Reply to this email directly or view it on GitHub:
#144 (comment)
pushed a commit to NetBSD/pkgsrc that referenced this issue Sep 22, 2018