Join GitHub today
GitHub is home to over 40 million developers working together to host and review code, manage projects, and build software together.
Sign up
New issue

Have a question about this project? Sign up for a free GitHub account to open an issue and contact its maintainers and the community.

By clicking "Sign up for GitHub", you agree to our terms of service and privacy statement. We'll occasionally send you account related emails.

Already on GitHub? Sign in to your account
Export named vertex attribute sets as custom attributes.
#807
Conversation
Proposed fix for #542.
Not ready to merge – there's one TODO in the code, and I'd like to get more feedback on whether this is the right approach and whether it's useful.
Steps to test:
Create one or more vertex color sets.
Assign a custom (non-"Col") name to at least one vertex color set.
Export with the "Meshes -> Custom Attributes" option enabled.
Result should be something like this, given a vertex color set named "Flux":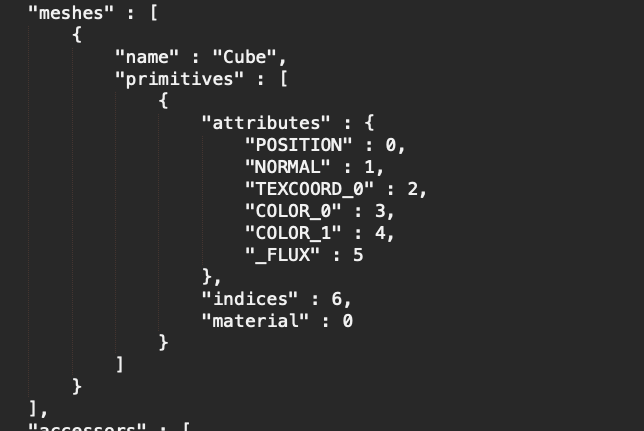 This will import to three.js with the name mesh.geometry.attributes._flux, for example.
donmccurdy
mentioned this pull request
Nov 30, 2019
I fixed tests (download daily build was KO), so you should merge master to re-run tests
donmccurdy
force-pushed
the
donmccurdy:feat-custom-attributes
branch from
c911f46
to
e87c462
Nov 30, 2019
Maybe this feature should use Weight Painting instead of vertex colors... 🤔
i'm wondering why limit exported color layers count. Master branch limits to 2 and current PR limits to 4.
Is there any reason to have a limit? and have it hard coded?
If so maybe we could at least log a warning during export.
Yeah, I'm not sure why there's a limit at all... I'd be fine with removing that.
Add this suggestion to a batch that can be applied as a single commit.
This suggestion is invalid because no changes were made to the code.
Suggestions cannot be applied while the pull request is closed.
Suggestions cannot be applied while viewing a subset of changes.
Only one suggestion per line can be applied in a batch.
Add this suggestion to a batch that can be applied as a single commit.
Applying suggestions on deleted lines is not supported.
You must change the existing code in this line in order to create a valid suggestion.
Outdated suggestions cannot be applied.
This suggestion has been applied or marked resolved.
Suggestions cannot be applied from pending reviews.
Suggestions cannot be applied on multi-line comments.