Sponsor

Sponsor Kunena/Kunena-Forum
New issue

Have a question about this project? Sign up for a free GitHub account to open an issue and contact its maintainers and the community.

By clicking "Sign up for GitHub", you agree to our terms of service and privacy statement. We'll occasionally send you account related emails.

Already on GitHub? Sign in to your account
Select category doesn't work if JavaScript disabled
#6126
Comments
Steps to reproduce the behavior:
Configuration-> Force users to pickup a category = Yes
Category settings-> Review posts = Yes (For all categories, a moderator needs to approve every new post/topic)
Disable javascript in your browser
Registered user create a new topic and don't choose any category from the dropdown
Expected behavior
The user is forced to pickup a category: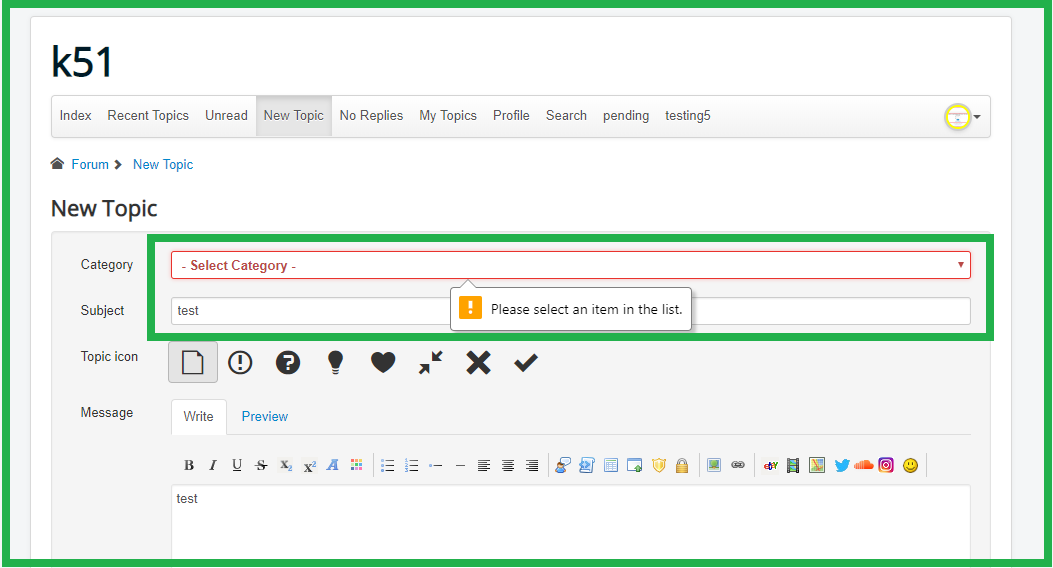 If select a category, the new topic will be on hold until a moderator review it

Actual result
Because javascript is disabled in the browser, the new topic will be posted intermediately and you will see the following message:
System information (please complete the following information)
Joomla version: Joomla! 3.9.0-rc-dev
Kunena version: 5.1.4
Php version: 7.1.22
Database version: MySQL 5.6.41
The text was updated successfully, but these errors were encountered:
We are unable to convert the task to an issue at this time. Please try again.