Join GitHub today
GitHub is home to over 28 million developers working together to host and review code, manage projects, and build software together.
Sign up
New issue

Have a question about this project? Sign up for a free GitHub account to open an issue and contact its maintainers and the community.

By clicking "Sign up for GitHub", you agree to our terms of service and privacy statement. We'll occasionally send you account related emails.

Already on GitHub? Sign in to your account
Implement stroke texts for footprints and boards
#246
Conversation
Note: There are still some open questions to clarify before this is ready to merge. But here already an explanation about this new feature:
Stroke Font
Until now we used TrueType fonts in footprints/boards, but they cannot be exported into the Gerber format without extremely high effort. So we need stroke fonts (like most CAD/EDA applications). But because we were not happy with existing stroke font technologies, we started to develop specifications for a new stroke font: https://github.com/fontobene/fontobene/blob/master/SPECIFICATION.md
As these specifications will be ready soon, I started to implement them in LibrePCB. They can now be used in footprints and boards. Schematics still use TrueType fonts as no Gerber export is required.
Application Font Pool
Now the application has a directory where FontoBene files are located. They are loaded at runtime, so they need to be deployed together with the application. The library editor uses the default application font when editing footprints.
Project Font Pool
To remove the dependency of projects/boards to the application-wide fonts (and thus make projects even more self-contained), projects copy the application-wide fonts into the directory resources/fontobene inside the project's directory. This is done only once, afterwards boards of a project will only use these project-wide fonts. Changing application-wide fonts will thus have no effect on all existing projects. That's important to not break boards when updating the application (and its fonts) to a newer version.
In addition, this even allows users to use other fonts for their boards :) Other EDA tools do not provide this flexibility as fonts are often strongly bundled with the application.
Default Board Font
Currently there is only one font available, but in future we may provide various fonts and allow the user to specify what font should be used for every text object placed on a board. So we need to specify which one is the default font. That's now a property of every board, so you can choose the default font for every board separately.
Board Text Objects
Users can now place standalone text objects on boards:
To modify these text objects, there's a property dialog: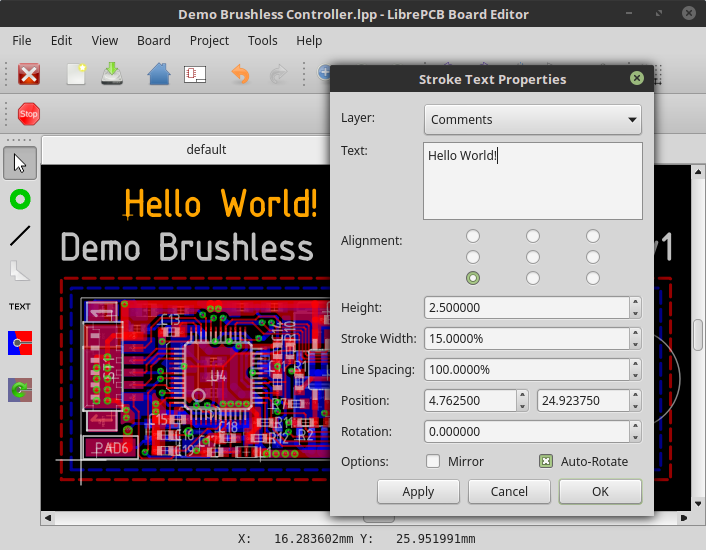 Footprint Text Objects
Footprints (in the library) typically contain text objects for name and value. When adding a footprint to a board, all its contained text objects are now copied as separate text objects (not just referenced), decoupled from the footprint. The original footprint text objects are not shown in a board. This way the decoupled text objects can be modified (e.g. moved/rotated) separately.
Footprint texts can also be removed from a board if not used. Maybe some time we can add a "lock text objects" property to footprints to avoid accidentally removing or modifying text objects.
Board File Changes
In the demo workspace you can see what has changed in the board file: LibrePCB/demo-workspace@94942f5#diff-8482b174ff3f28dcc855f119f2294404
Of course a board file is now a lot larger. But I think that's worth it...
Feedback?
Feedback is very welcome! You can already check this branch out to test the new features. It's not too late to make some changes 😉
Fixes #165.
Great work @ubruhin! Looking good.
I like this font btw. Kudos to the LibreCAD developers, upon whose work the FontoBene format (and the "unicode" font) is based (I think mostly @Rallaz, maybe also @dxli or @lordofbikes).
Update:
Rebased to master
Use absolute stroke width instead of a ratio (e.g. 0.2mm instead of 20%)
Add stroke width to letter spacing (adjust letter spacing dynamically to stroke width)
Update: Switch font to "FontoStroke" (converted NewStroke, see fontobene/fontobene-fonts#4) because of the unknown license situation of the LFF fonts. NewStroke has CC0 license, so it can be used for any purpose.
ubruhin changed the title from
WIP: Implement stroke texts for footprints and boards

to

Implement stroke texts for footprints and boards

Apr 15, 2018
I can do some testing tomorrow.
Seems to work great, unless you add too many characters :) Probably some algorithm with exponential runtime. Would be worth profiling.
Thanks for testing! Yeah performance improvements could be done later if really needed...
Add this suggestion to a batch that can be applied as a single commit.
This suggestion is invalid because no changes were made to the code.
Suggestions cannot be applied while the pull request is closed.
Suggestions cannot be applied while viewing a subset of changes.
Only one suggestion per line can be applied in a batch.
Add this suggestion to a batch that can be applied as a single commit.
Applying suggestions on deleted lines is not supported.
You must change the existing code in this line in order to create a valid suggestion.
Outdated suggestions cannot be applied.
This suggestion has been applied or marked resolved.
Suggestions cannot be applied from pending reviews.