Join GitHub today
GitHub is home to over 50 million developers working together to host and review code, manage projects, and build software together.
Sign up
GitHub is where the world builds software
Millions of developers and companies build, ship, and maintain their software on GitHub — the largest and most advanced development platform in the world.
New issue

Have a question about this project? Sign up for a free GitHub account to open an issue and contact its maintainers and the community.

By clicking "Sign up for GitHub", you agree to our terms of service and privacy statement. We'll occasionally send you account related emails.

Already on GitHub? Sign in to your account
Use-Case : publishing successive versions of the same vocabulary
#677
Comments
This is a use-case description, not an issue.
URL
http://data.education.fr/voc/scolomfr/concept/scolomfr-voc-015-num-6208
The use-case is the following : A vocabulary is released in SKOS every year. Partner institutions can integrate a given version of the vocabulary in their software/portals.
Every version of the vocabulary must remain accessible/browsable.
By default, non-expert users will browse/access the latest version of the vocabulary
Advanced users can choose which version of the vocabulary they browse
There is no need to display a precise "diff" between versions
When looking at a concept page in a given version, we want to know in which other version the concept (with the same URI) is also present, and we want to be able to display another version of the concept.
The idea is the following :
each successive version of the vocabulary is published as a separate skosmos:Vocabulary
each skosmos:Vocabulary corresponding to a version will hold additionnal "pav:version" to indicate the version number (e.g. "3.0") and "pav:createdOn" to store the date at which the version was released.
When displaying a concept, we look for every other Vocabulary in which the same concept URI also exists, and we display a timeline of all the versions in which the concept is defined.
items in the timeline are clickble to display the same concept in a different version.
The entry in the timeline corresponding to the current version is displayed differently.
We have implemented a first prototype :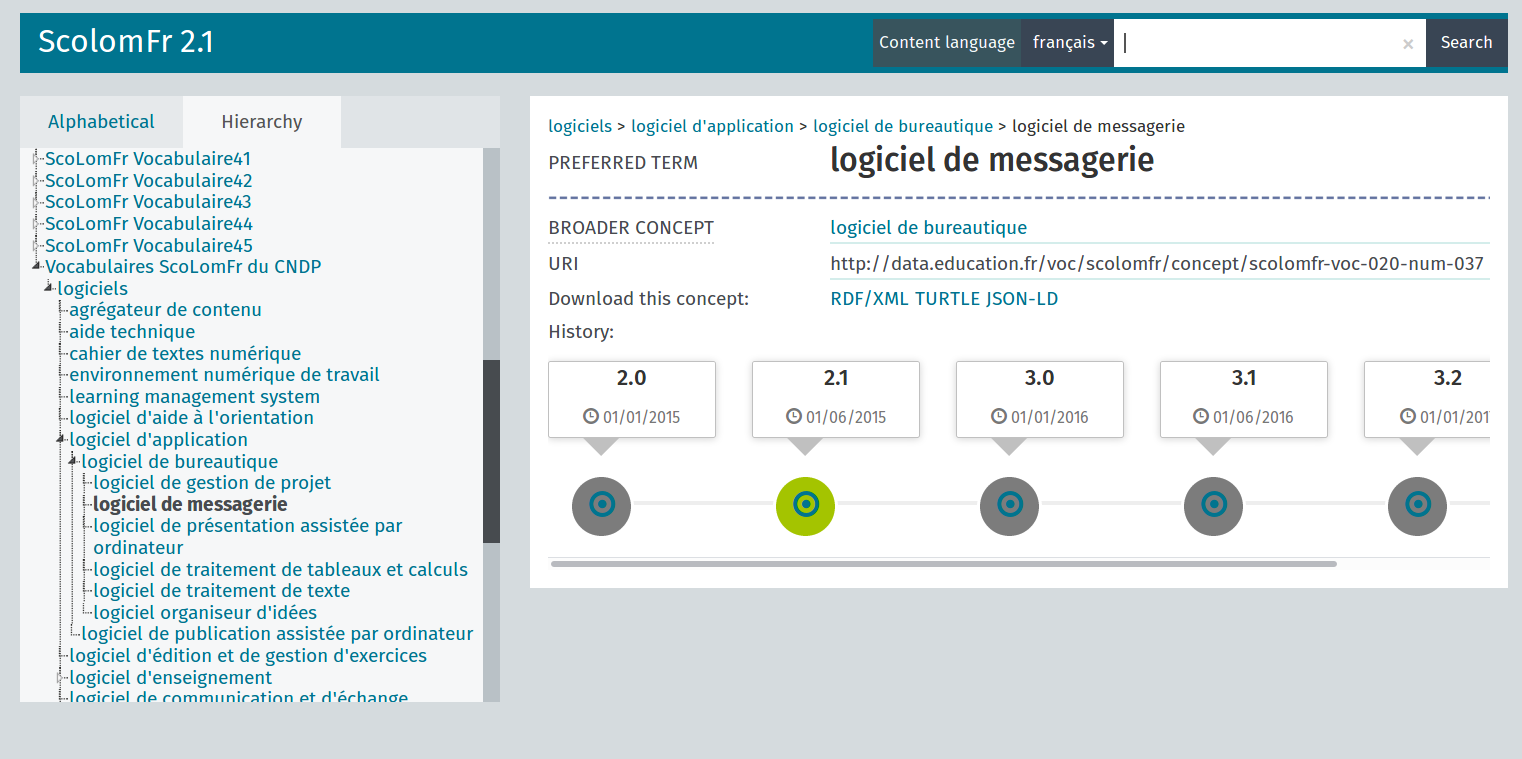 We need to display additionnal subtleties like the versions in which a concept was deprecated.
We would like to gather feedbacks if others have a similar use-case that could be adressed by this.
We would like to know if this is something that could be integrated by default in Skosmos (provided it does not impact deployments that don't use this feature), or is it better to keep this separate.
osma
added the
enhancement
label
Mar 12, 2018
osma
added this to the
Contribution-dependent features
milestone
Mar 12, 2018
Do not have this requirement, but I think it could be useful to others. Prototype looks good, as well as the example from ScoLOMFR posted to the mailing list.
awagner-mainz
mentioned this issue
Oct 7, 2019
MikkoAleksanteri
added this to
Random enhancements and bugs
in
Skosmos Backlog
Jan 27, 2020