Join GitHub today
GitHub is home to over 50 million developers working together to host and review code, manage projects, and build software together.
Sign up
GitHub is where the world builds software
Millions of developers and companies build, ship, and maintain their software on GitHub — the largest and most advanced development platform in the world.
New issue

Have a question about this project? Sign up for a free GitHub account to open an issue and contact its maintainers and the community.

By clicking "Sign up for GitHub", you agree to our terms of service and privacy statement. We'll occasionally send you account related emails.

Already on GitHub? Sign in to your account
f3d: init at 1.0.1
#96934
Conversation
Motivation for this change
Things done
Tested using sandboxing (nix.useSandbox on NixOS, or option sandbox in nix.conf on non-NixOS linux)
Built on platform(s)

NixOS
macOS
other Linux distributions

[NA] Tested via one or more NixOS test(s) if existing and applicable for the change (look inside nixos/tests)
[NA] Tested compilation of all pkgs that depend on this change using nix-shell -p nixpkgs-review --run "nixpkgs-review wip"
Tested execution of all binary files (usually in ./result/bin/)
Determined the impact on package closure size (by running nix path-info -S before and after)
Ensured that relevant documentation is up to date
Fits CONTRIBUTING.md.
bcdarwin
force-pushed
the
bcdarwin:f3d
branch from
1f790cd
to
c0df231
Sep 2, 2020
bcdarwin
requested a review from
OPNA2608
Sep 2, 2020
LGTM if it runs for you.
Tested on non-NixOS Linux (Ubuntu 18.04). SIGABRTs on startup due to libGL, LD_LIBRARY_PATHing the system's libGL libraries works (afaik this is a known problem, see #9415). Not tested with any 3D model.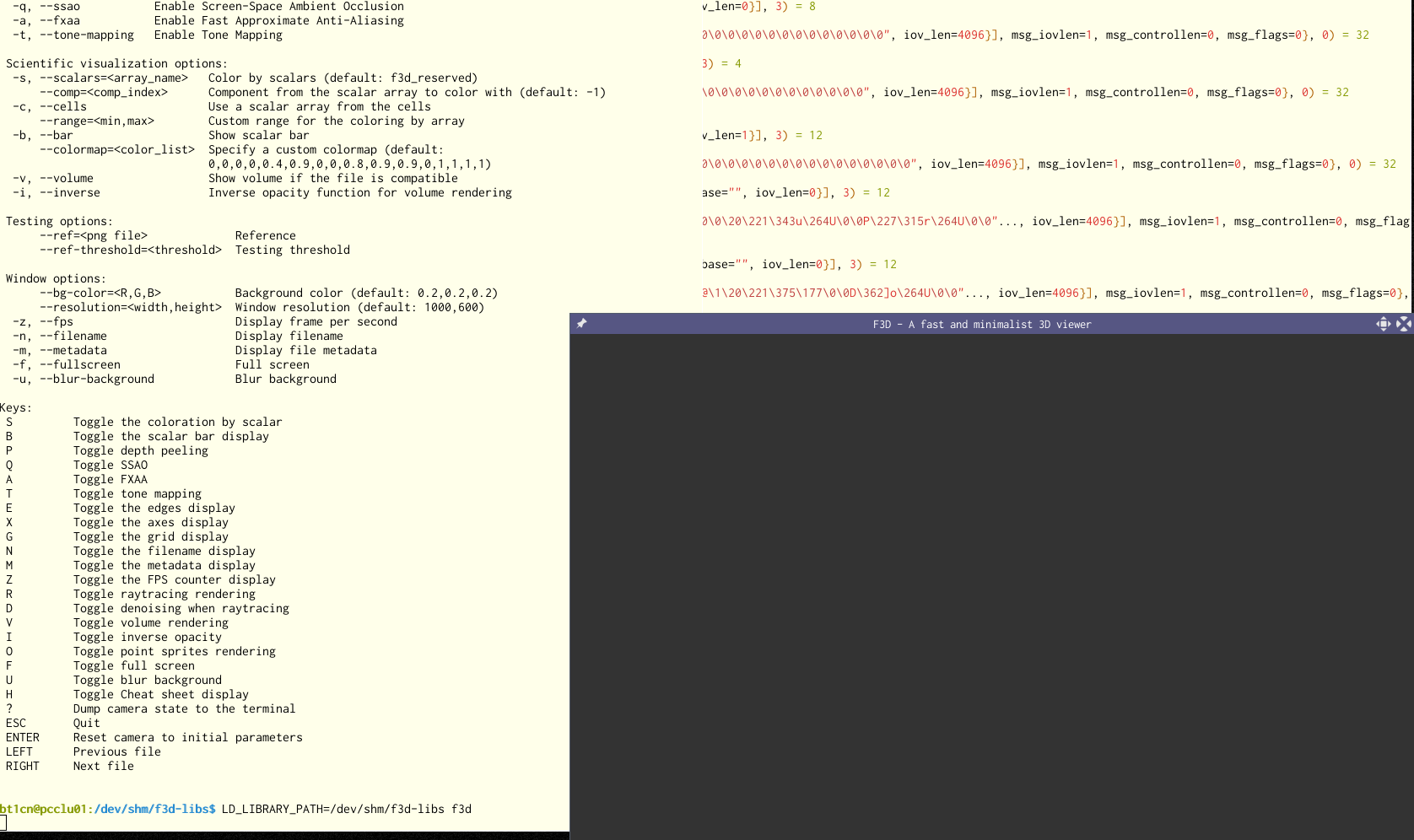 I have opened some 3d models and it works fine (except that it's compiled without the -r flag for ray tracing due to VTK not being compiled with necessary support). Same issue on non-NixOS Linux, but works on OS X.
marsam
merged commit
69b0cf2
into
NixOS

:

master
Oct 10, 2020
19 checks passed
bcdarwin
deleted the
bcdarwin:f3d
branch
Oct 13, 2020
Add this suggestion to a batch that can be applied as a single commit.
This suggestion is invalid because no changes were made to the code.
Suggestions cannot be applied while the pull request is closed.
Suggestions cannot be applied while viewing a subset of changes.
Only one suggestion per line can be applied in a batch.
Add this suggestion to a batch that can be applied as a single commit.
Applying suggestions on deleted lines is not supported.
You must change the existing code in this line in order to create a valid suggestion.
Outdated suggestions cannot be applied.
This suggestion has been applied or marked resolved.
Suggestions cannot be applied from pending reviews.
Suggestions cannot be applied on multi-line comments.