Join GitHub today
GitHub is home to over 40 million developers working together to host and review code, manage projects, and build software together.
Sign up
New issue

Have a question about this project? Sign up for a free GitHub account to open an issue and contact its maintainers and the community.

By clicking "Sign up for GitHub", you agree to our terms of service and privacy statement. We'll occasionally send you account related emails.

Already on GitHub? Sign in to your account
Town Y value reported by var 80 is inconsistent on different map sizes
#7149
Comments
Town var 80 is the XY of the town. On a 256x256 map, the variable returns the expected values. On all map sizes, the X value in the low byte appears to work correctly (town X position truncated to a byte).
On larger or smaller maps, however, the Y value becomes erratic. On larger map sizes, it multiplies, and can take an overflow from the X coordinate. On smaller map sizes, it halves, with odd values underflowing into the X coordinate. The behaviour seems to be the same whether the variable is accessed as the high byte of var 80, or as var 81.
A test newgrf is attached. The reported values from var 80 are stored in the persistent town registers - to view them, inspect a test house then click the "parent" button.

Doubled Y value on 512x map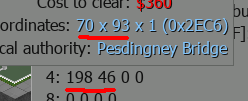 Halved Y value (with underflow) on 128x map
testhouse.zip
Var 80 is not part of the specs, and the meaning has diverged a bit from the original TTD meaning. So i don't think this is technically a bug, but the behavior might need better documentation.
Okay, I think I understand how it works now. I'll experiment.
This is an internal data variable which requires masking to get the data as required, and is working as expected.