Join GitHub today
GitHub is home to over 50 million developers working together to host and review code, manage projects, and build software together.
Sign up
New issue

Have a question about this project? Sign up for a free GitHub account to open an issue and contact its maintainers and the community.

By clicking "Sign up for GitHub", you agree to our terms of service and privacy statement. We'll occasionally send you account related emails.

Already on GitHub? Sign in to your account
Cannot insert new order
#7881
Comments
Version of OpenTTD
1.9.3.
Just "Can't insert new order ..." without further explanation: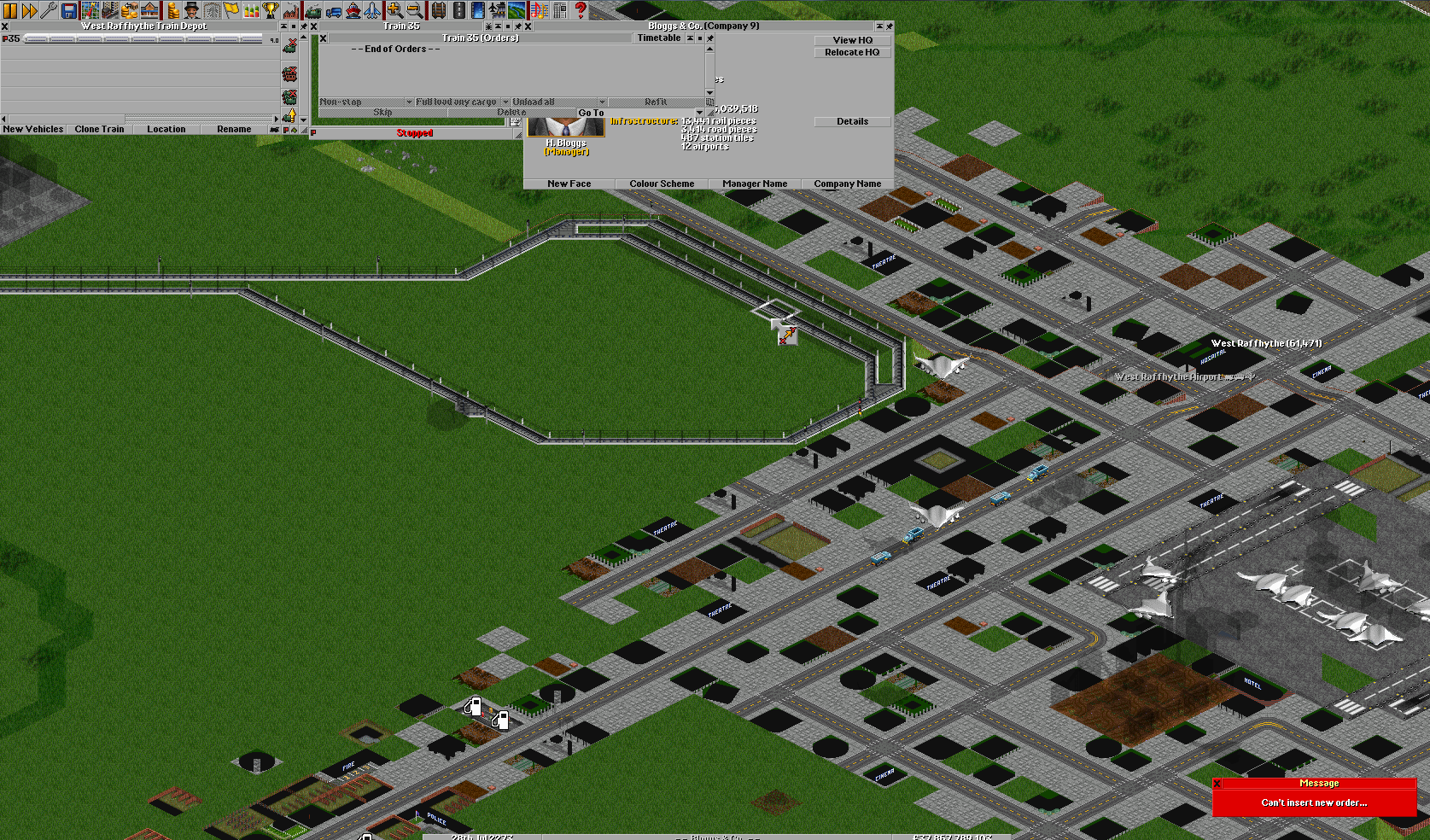 Steps to reproduce
Bugfix Transport, 13th Jul 2273.zip
Open save, switch to company no. 9, select train no. 35, now try to add order to "West Raffhythe Airport" station. It is possible to add order to any other train station (even new), but not to "West Raffhythe Airport".
Found this issue (#6968), but I do not think it is related to it. Maybe some issue with airport closing?
This is a known bug in 1.9.3 (and that version only), same cause as #7789.
The workaround is to make sure the tile below the station sign belongs to the station in question, otherwise you can't make orders to the station.
It's unlikely we will release a fixed version of 1.9.3, since version 1.10 is getting closer. The bug is fixed in current beta versions, and if you prefer to stay on 1.9.3 you can also try e.g. the CityMania Client which should be fully compatible gameplay-wise, just has some UI changes.
nielsmh
closed this
Dec 28, 2019
nielsmh
mentioned this issue
Jan 4, 2020