New issue

Have a question about this project? Sign up for a free GitHub account to open an issue and contact its maintainers and the community.

By clicking "Sign up for GitHub", you agree to our terms of service and privacy statement. We'll occasionally send you account related emails.

Already on GitHub? Sign in to your account
[Bug]: Signal Lights logic problem
#9554
Comments
Version of OpenTTD
12.0-beta2
Expected result
Bottom train should go to an empty slot in station.
Actual result
Signal light is blocking way without reason.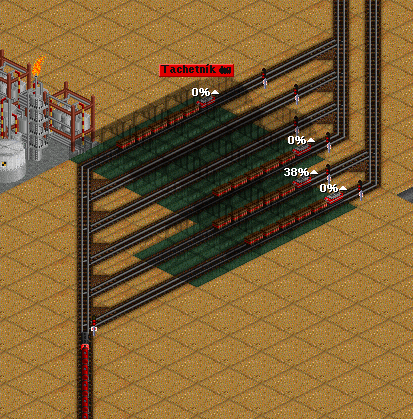 Train starts moving only when I remove rails to all used station slots. This bug appears randomly without any reason.
edit: added 2nd image
edit2: not even additional singal lights can fix it ... again: the train can't go through to the station:

Steps to reproduce
Not sure. I have this schematic on many places but only here is the problem.
The text was updated successfully, but these errors were encountered:
We are unable to convert the task to an issue at this time. Please try again.
The 4 upper station tracks are too short for the train to fit, but I'm not sure it's the issue.
I got this conclusion now too. But i think that it should still be able to use shorten slot. When it can use it without signal lights, why not with them?