Join GitHub today
GitHub is home to over 40 million developers working together to host and review code, manage projects, and build software together.
Sign up
New issue

Have a question about this project? Sign up for a free GitHub account to open an issue and contact its maintainers and the community.

By clicking "Sign up for GitHub", you agree to our terms of service and privacy statement. We'll occasionally send you account related emails.

Already on GitHub? Sign in to your account
Missing chart in Shop Search stats for new employees
#16730
Comments
Describe the bug
The pie chart in the Shop Search tab in the Stats page does not appear on BO of a new employee.
Even with all permissions enabled or with the SuperAdmin profile.
To Reproduce
Steps to reproduce the behavior (a shorter way probably exists):
Go to 'Team'
Create a new profile with all permissions enabled
Create a new employee, assign it the new profile you created
Connect to the BO with the new employee credentials
(If on a fresh install) Go to the Front-Office and use the search with a couple of keywords, do at least twice a search with each word -> to generate search stats
Go to Stats > Shop search and see the missing pie chart - Make sure the period includes today
you can try to set the profile of the employee to SuperAdmin, the result is the same
Screenshots
On the initial SuperAdmin employee account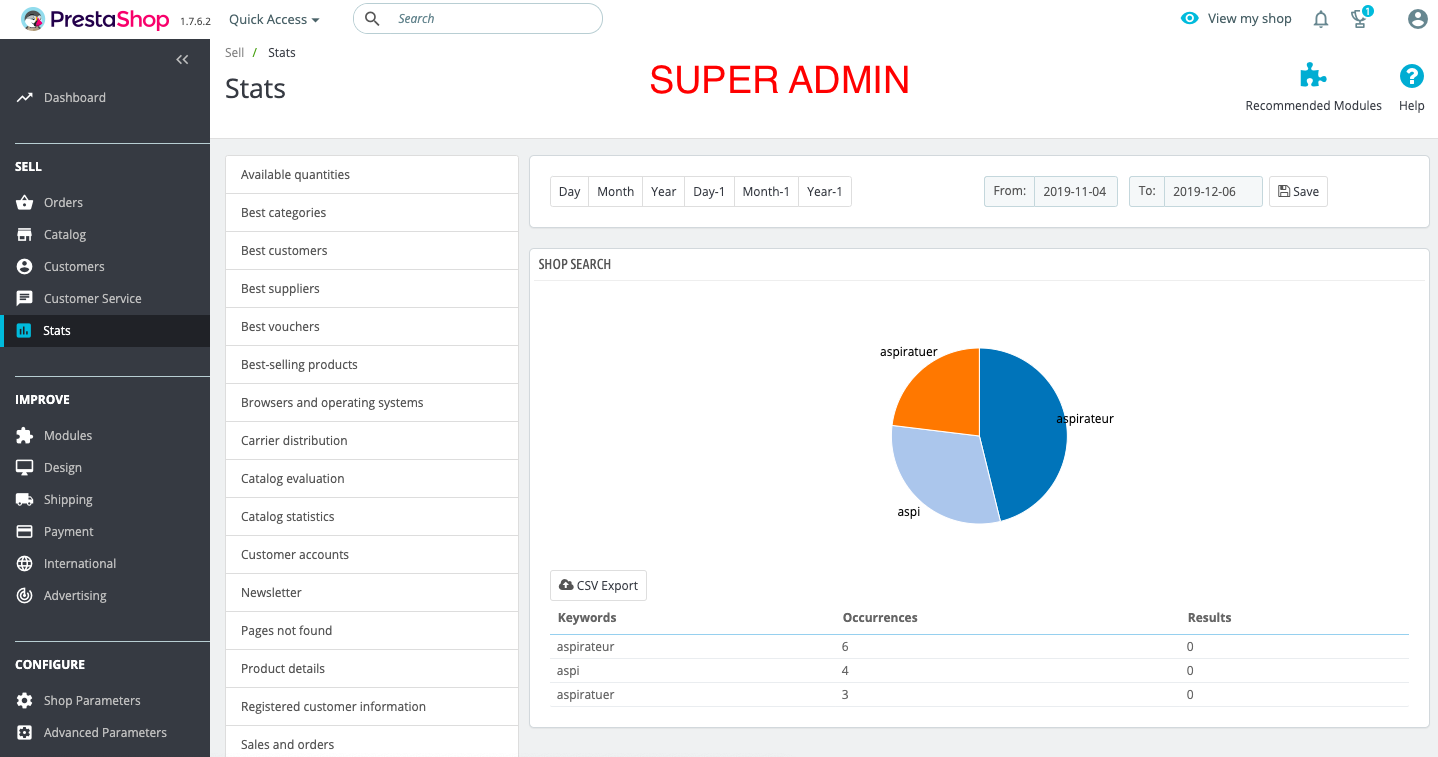 On the newly created employee account (all permissions enabled or SuperAdmin)

Additional information
On the new employee profile, when accessing the "Shop Search" tab, the page keeps loading for unlimited time (at least 10 minutes and still loading in my case)(see screenshot)
Might be related to #13178
PrestaShop version: 1.7.6.2
PHP version: N/A
matks
closed this
Dec 26, 2019
marionf
added the
Fixed
label
Dec 26, 2019