Join GitHub today
GitHub is home to over 28 million developers working together to host and review code, manage projects, and build software together.
Sign up
New issue

Have a question about this project? Sign up for a free GitHub account to open an issue and contact its maintainers and the community.

By clicking "Sign up for GitHub", you agree to our terms of service and privacy statement. We'll occasionally send you account related emails.

Already on GitHub? Sign in to your account
Need Consistency in when and where we display Raster Surface Properties
#232
Comments
The Context
In GCD 7, @philipbaileynar added a nice feature of showing the statistics and basic properties of all raster surfaces. I would love to see the grid control broken into:
Raster Properties

Cell Size
Rows
Collumns
Height
Width
Spatial Reference

Raster Statistics

Mean Raster Value
Max Raster Value
Min Raster Value
Standard Deviation Raster Value
This information is really helpful for troubleshooting. Essentially, any raster that shows up in the GCD (at least the inputs... thought outputs described in #231 would be nice too), we have a new grid control that shows off this data.
The Problem
The problem is we are inconsistent in which forms have been updated to show this information:
The Haves (that elitist 1%)
Surveys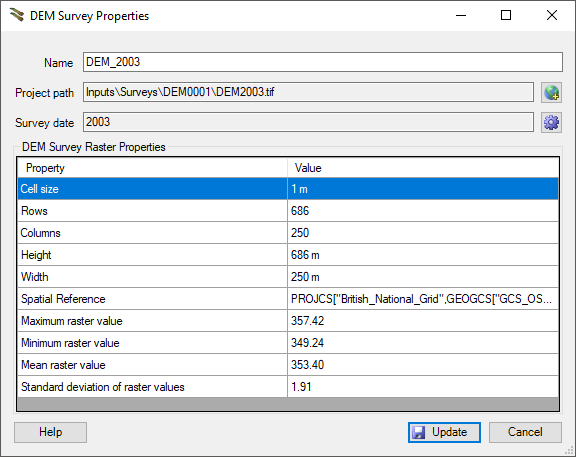 Error Surfaces Added instead of Derived
Reference Error Surfaces
The Have Nots (the rest of us poor sods)
Associated Surfaces
Error Surfaces Derived
The error surfaces derived desprately need a grid control (instead of the input dialog) showing us what kind of error analysis was done, and in case of FIS allowing us to open up the FIS xml: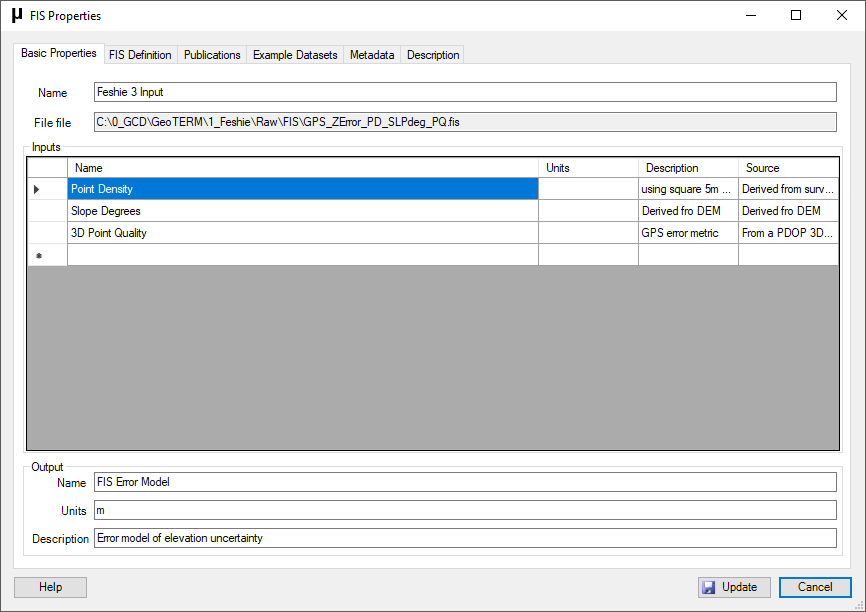 There is no need to redo this awesome form (just load it)! @MattReimer and I discussed this as a separate issue #234 of shipping that portion of XML with GCD Project in Error Surface Folder.
I think 'Added Reference Surfaces' also fail.
This fall outside @jb10016 top 1, 2 or 3 priorities. I'm going to leave it here if budget allows. Otherwise shelve it.
@jb10016 and @joewheaton Please review the implementation of more consistent raster properties throughout the software:
@philipbaileynar - nice work.
I like the new Analysis Details tab under the CD results - nice to be able to examine these, add to map etc. and also access the intermediate datasets.
Super nice @philipbaileynar. I like it. I even like how you did the error surface and multi-method error surfaces! I love how you did this in DoDs→Analysis Details. Really slick. The read only part makes sense. I presume you'll add those little bugs you saw on Intermediates and that one label (or maybe you already fixed those)? Nice work.