Join GitHub today
GitHub is home to over 36 million developers working together to host and review code, manage projects, and build software together.
Sign up
New issue

Have a question about this project? Sign up for a free GitHub account to open an issue and contact its maintainers and the community.

By clicking "Sign up for GitHub", you agree to our terms of service and privacy statement. We'll occasionally send you account related emails.

Already on GitHub? Sign in to your account
TAStudio.OnQueryItemBg transparency color problem solved
#1221
Comments
When you make script with passing integer value as color and this integer value contains transparency color above then 0x7F value, then ColorTranslator.FromHtml function returns wrong value and just you see it in this screenshot: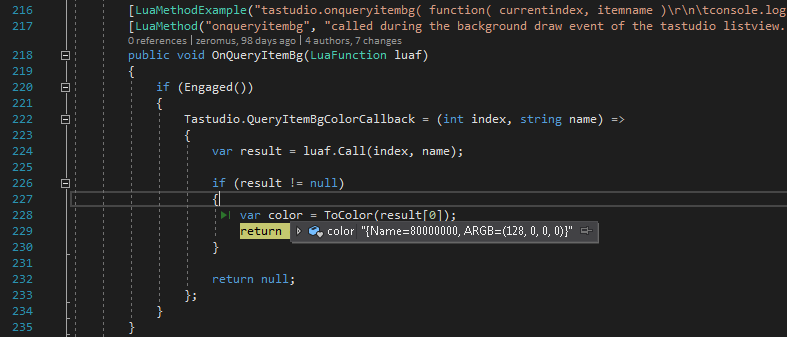 So I suggest to change this to:


Not only that solve this problem then do his job much more faster compered to this one:

Just submit a pull request with the changes if you already have them made. Looking at the reference source, they used Convert.ToInt32 for some reason.
I will. I know this problem because I'm using this function to mark jumps. When you make function return integer like this (e. g.):
tastudio.onqueryitembg(
    function ( current_index, current_input )
        if ( current_input == "A" ) then
            return 0xCF1F2F3F;
        end;
    end ) );

Input color will gone! I'll fix this.