Tiledesk-dashboard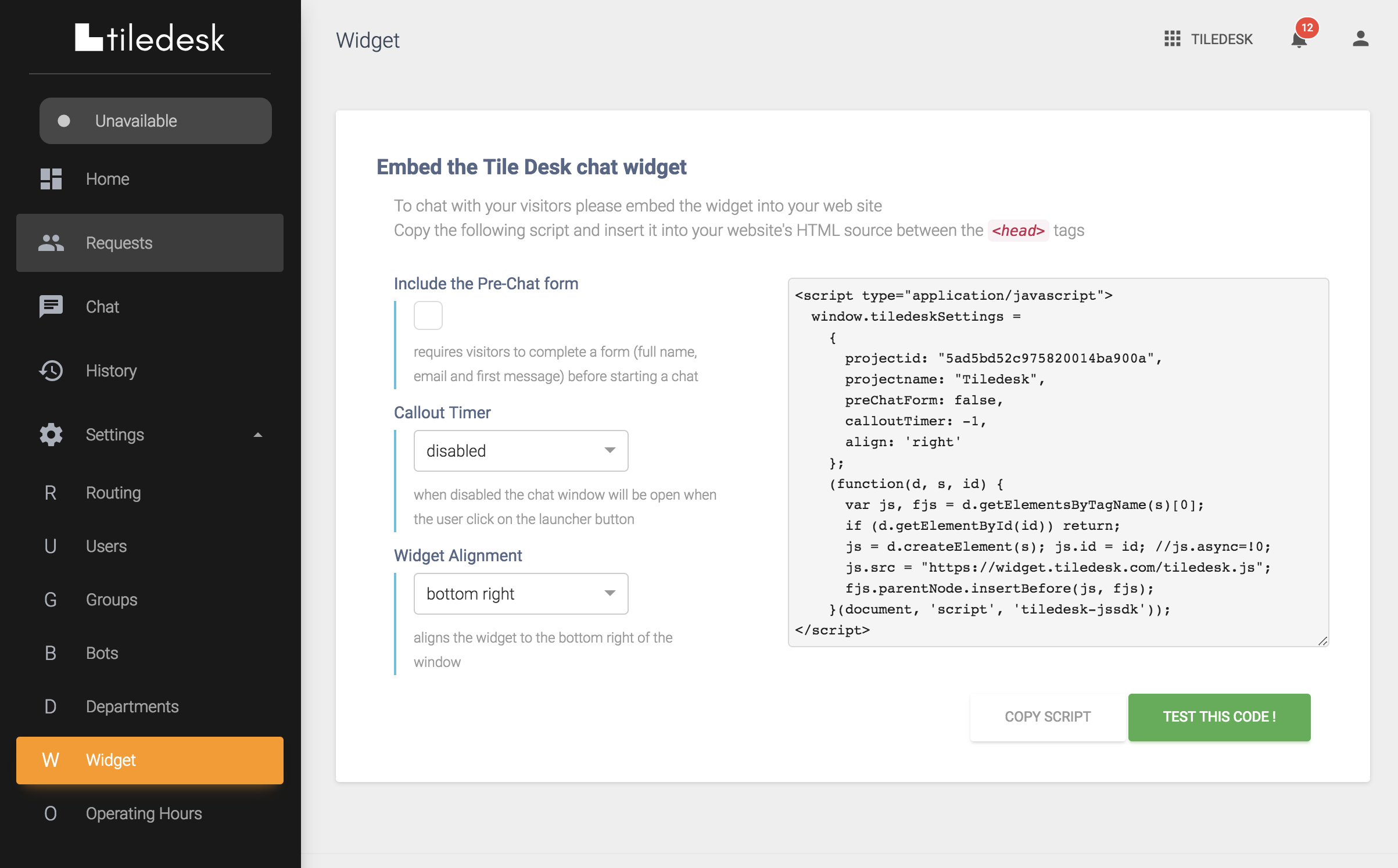 Tiledesk.com backoffice application is available on GitHub with the AGPL-3.0 licence. Follow this instructions to setup the environment.
Consider that Tiledesk.com cloud service makes every module available with the same open source licence.
Web Widget component
iOS Widget API (work in progress)
full iOS App
full Android App
Tiledesk Backoffice (this repo)
All the chat components are available thanks to the Chat21 open source project, also available on GitHub (https://github.com/chat21)
Feel free to ask for support on http://tiledesk.com, using the live chat widget on the the website.
Features
Angular 5.0
Firebase Auth
Firebase Database CRUD (Firestore & Realtime DB)
MongoDB CRUD
Prerequisite

For Firebase Auth and Firebase Database: create an account at https://firebase.google.com/ For MongoDB CRUD: install and running tiledesk-api-nodejs (https://github.com/Tiledesk/tiledesk-api-nodejs)
git clone https://github.com/Tiledesk/tiledesk-dashboard.git
cd tiledesk-dashboard
npm install
Edit the environment.ts file and create the enviroment.prod.ts in src/environments/.
environment.ts
export

 

const

 environment 

=

 {
    production: 

false

,
    firebaseConfig: {
        apiKey: 

'

APIKEY

'

,
        authDomain: 

'

PROJECT-ID.firebaseapp.com

'

,
        databaseURL: 

'

https://PROJECT-ID.firebaseio.com

'

,
        projectId: 

'

PROJECT-ID

'

,
        storageBucket: 

'

PROJECT-ID.appspot.com

'

,
        messagingSenderId: 

'

123456789

'


    },
    mongoDbConfig: {
        BASE_URL: 

'

http://localhost:3000/

'

,
        PROJECTS_BASE_URL: 

'

http://localhost:3000/projects/

'

,
        SIGNUP_BASE_URL: 

'

http://localhost:3000/auth/signup

'

,
        SIGNIN_BASE_URL: 

'

http://localhost:3000/auth/signin

'

,
    },
};
environment.prod.ts
export

 

const

 environment 

=

 {
    production: 

true

,
    firebaseConfig: {
        

//

 same as above, or use a different firebase project to isolate environments
    },
     mongoDbConfig: {
        

//

 same as above
    },
};
And finally ng serve
Build

Run ng build --prod --base-href /dashboard/
Deploy on AWS CloudFront and AWS S3
aws s3 sync ./dist/ s3://tiledesk-dashboard/dashboard

aws cloudfront create-invalidation --distribution-id E2DTAKWHWQ7C3J --paths "/*