New issue

Have a question about this project? Sign up for a free GitHub account to open an issue and contact its maintainers and the community.

By clicking "Sign up for GitHub", you agree to our terms of service and privacy statement. We'll occasionally send you account related emails.

Already on GitHub? Sign in to your account
Add more layers
#617
Comments
Currently, the Base, Mod, Mouse, and Fn layers are available. We'll extend these layers with 4 regular layers (Fn2, Fn3, Fn4, Fn5) and 4 modifier layers (Shift, Ctrl, Alt, Super).
All of these layers will be optional (can be added or removed per keymap) with the exception of the base layer which cannot be removed.
See the updated layer button group in which the order of Mouse and Fn is exchanged compared to the current order, and there's a dropdown arrow at the end:
The dropdown contains a checkbox for every optional layer: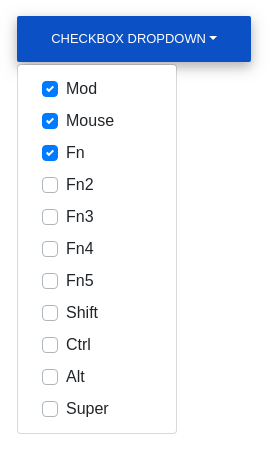 The implementation of the above dropdown is not consistent with the Bootstrap 3 style as it's only meant to be a demonstration. The dropdown must not disappear upon clicking a checkbox. Unchecking a checkbox must be confirmed by a confirmation popover containing: Do you really want to delete this layer?
Modifier layer names must be OS-specific. So for example, Alt becomes Cmd on Mac.
The layer button group must update immediately upon toggling the layer checkboxes, and the button order must be the same as the dropdown item order.
The user configuration format will change. Right now, a keymap contains a fixed number of 4 layers. According to the above, a keymap will contain at least 1 and at most 12 layers. A layer id must be included into each layer object.
The text was updated successfully, but these errors were encountered: