jQuery Social Share Bar

jQuery Social Share Bar is a simple but beautiful jQuery plugin for easily adding a floating social sharing bar to your site.

It's small and easy-to-use and doesn't track the shares or make other API calls, which can cause privacy issues and slow things down.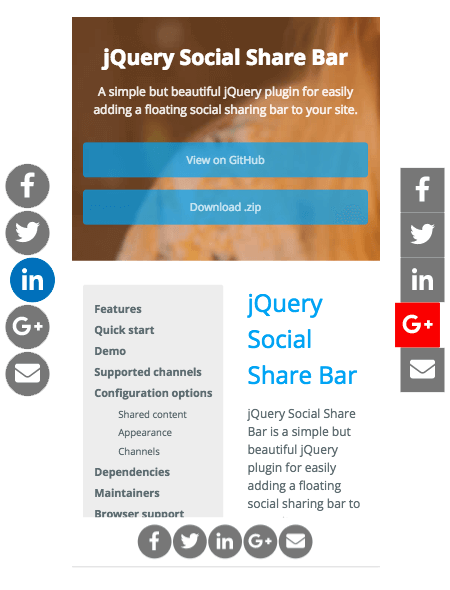 Features
Minimalistically beautiful design
Floats on the same position when page is scrolled
Two themes: circular and square icons
Responsive behavior: bar automatically moves to bottom of screen on mobile
Supports 10 different channels
Small file sizes, no bloat
Super simple to add to any web page
Simple animations to keep things interesting
No tracking or external API calls
Uses Font Awesome SVG for cross-browser support
Supported channels

Ten different social media channels are supported for sharing your content to.
Facebook
Twitter
LinkedIn
Google+
Pinterest
Reddit
Tumblr
StumbleUpon
Digg
Email
Demo and documentation

Demo and documentation can be found on the project page.
License
---
© Viima Solutions Oy, 2018.
Modified from jquery-share by ewebdev.