Join GitHub today
GitHub is home to over 28 million developers working together to host and review code, manage projects, and build software together.
Sign up
New issue

Have a question about this project? Sign up for a free GitHub account to open an issue and contact its maintainers and the community.

By clicking "Sign up for GitHub", you agree to our terms of service and privacy statement. We'll occasionally send you account related emails.

Already on GitHub? Sign in to your account
"Publishing failed" message fixed by changing to "Day and name" permalink structure?
#2596
Comments
Issue Overview
As noted in a comment to another thread I installed Gutenberg 1.0.0 onto a WP 4.8.1 Multisite installation and found that after activating Gutenberg in two different sites on the same WP MS server, I could successfully publish in one site but not in the other.
The first site (deepdark.blue) gave me a "Publishing failed" message when I tried to publish a post and an "Updating failed" message when I tried to save the post or add an image via drag-and-drop.
Using Google Chrome (on a Mac) I opened Developer Tools and then the Network tab. After seeing an error message after "Publishing failed" I could see that the Header message was:
Request URL:http://deepdark.blue/wp-json/wp/v2/posts/84
Request Method:PUT
Status Code:404 Not Found
Remote Address: <removed>:80
Referrer Policy:no-referrer-when-downgrade

I then activated Gutenberg on a second test site (danyork.org) on the same WP MS server and found that I could immediately use Gutenberg to add new posts without any issues.
While the two test sites had different themes, they had similar plugins activated. Based on some other older posts I saw online, I looked at permalinks. The second site had "Day and name" selected for the permalink structure. The first site did not. It was using "Month and name".
I switched the first site to have a permalink structure of "Day and name" and ... ta da... Gutenberg worked fine from that point onward, including saving and publishing the post that had failed before.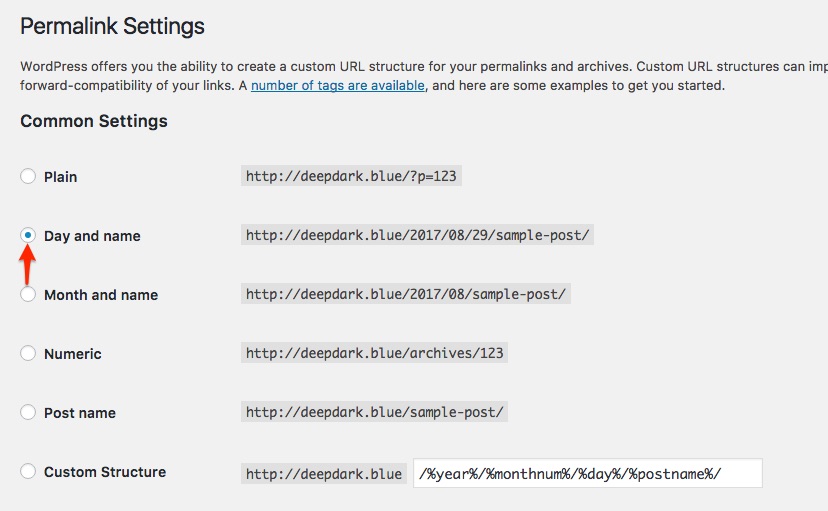 HOWEVER, I was not able to reproduce the error by switching the second site back to "Month and name" and having Gutenberg fail.
And, after switching the first site to "Day and name" and having Gutenberg work, I then switched in back to "Month and name" ... but publishing still worked.
So I cannot reproduce the issue after fixing it. There may be something else completely different going on here.
Steps to Reproduce (for bugs)
I don't have any other test sites running on the server right now and don't have time today to set one up, but in the hope that perhaps someone else can test this, I would need to:
Create a new site and set the permalink settings to "Month and name"
Activate Gutenberg
See if a post can be created and published.
If not, does switching the Permalink settings to "Day and name" solve the issue?
Expected Behavior
Gutenberg should work for all sites on a WP Multisite server.
Current Behavior
It worked for one site but not for another. (There are additional sites on that particular server, but they are production sites and I don't want to activate the plugin there.)
Possible Solution
I don't have any suggestions.
Todos
Questions that occur to me:
The home site into which the plugin was installed (via Network Admin -> Plugins -> Add New) has a permalink structure of "Day and name". Even though the plugin was NOT activated for that site, nor did I "Network Activate", did Gutenberg somehow learn that configuration?
Why would I be getting a 404 error on the wp-json URL with this difference in permalinks?
This issue is not specific to Gutenberg, it's global to any WP REST API usage, I don't know if your webserver is Nginx but I think there's a known issue with the API when using Nginx and keeping the plain permalinks. Others may be more aware of permalink related API issues
Just my 2¢€: I got the same problem Gutemberg. The issue was caused by http/https mixed content. Forcing everything through https solved it.
@danyork Were you able to track down the true source of this issue?
I am going to close this as without more feedback it could relate to the existing issues. That all said, closing doesn't mean we can't reopen if we have more information.
Unfortunately, I happened to come across the same error as @danyork. Switching from custom to plain permalink worked for me, other permalink structures produced the same error. I've switched back and got error back.
Today after the upgrade to WordPress 5.0 on a WP multi-site server, I experienced this exact issue again. On a site where the permalink was set to "Post name", I tried to edit a post in Gutenberg and got the "Updating failed" error. I then went into the Permalinks and changed the setting to be "Day and Name" - and the editing of the post then worked fine.
Curiously, if I then went to the Permalinks setting and changed back to the previous setting ("Post name", in this case), then it still worked.
So perhaps the action of changing the permalink structure was enough to make this work?
To follow up on my last comment, I had this "Updating failed" problem tonight with another site on the same WP Multisite server after the upgrade to WordPress 5.0. This time, what I did was this:
In Permalinks settings, changed it from "Month and name" to "Day and name" and pressed "Save changes". I received the message "Permalink structure updated."

Changed it from "Day and name" back to "Month and name" and pressed "Save changes". I received the message "Permalink structure updated."

Switched back to the tab where I was editing the post and had the error message. Pressed "Update" and.. ta da... the updating worked perfectly fine.
I have no idea why making this change would cause Gutenberg to work properly, but it does.