Join GitHub today
GitHub is home to over 40 million developers working together to host and review code, manage projects, and build software together.
Sign up
New issue

Have a question about this project? Sign up for a free GitHub account to open an issue and contact its maintainers and the community.

By clicking "Sign up for GitHub", you agree to our terms of service and privacy statement. We'll occasionally send you account related emails.

Already on GitHub? Sign in to your account
CFS WYSIWYG field displays differently in Gutenberg
#3302
Comments
Issue Overview
CFS (Custom Field Suite) WYSIWYG field displays differently in Gutenberg vs. Classic Editor.
Steps to Reproduce (for bugs)
Install and activate Custom Field Suite plugin: https://wordpress.org/plugins/custom-field-suite/.
Create a WYSIWYG field and enable for posts/pages.
Expected Behaviour
The WYSIWYG field will render with equivalent functionality in Classic Editor and Gutenberg.
Current Behaviour
The WYSIWYG field renders with TinyMCE buttons in Classic Editor and without TinyMCE buttons in Gutenberg.
Gutenberg 1.6.0
Windows 10
Chrome 61.0.3163.100 (Official Build) (64-bit)
Classic Editor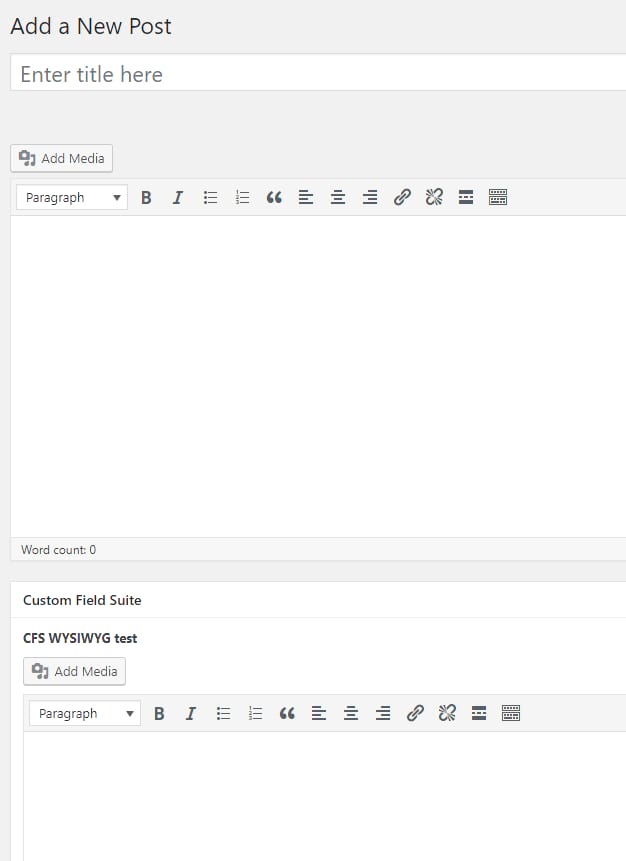 Gutenberg
Hi @chthonic-ds,
Thank you for the report. Most likely TinyMCE is not being enqueued properly or something of that nature. I will look into it. Is CFS on the WordPress.org Plugins Repository?
This is not the issue with this plugin only. Any plugin that uses wp_editor() to embed TinyMCE editor in metaboxes is broken, sometimes completely, in some cases, only TinyMCE Visual tab is broken and Text tab shows toolbar, but no content area.
This is the same for ACF WYSIWYG fields. It also prevents the Add media, insert images, and add forms from working in using Gravity Forms, and Unsplash Image plugin.
Unfortunately because of this issue. This plugin is unusable for me.
chthonic-ds
mentioned this issue
Nov 30, 2017
Yep, it's for any metabox with a wp_editor() function call as said by @dev4press.
Too time consuming for me to look into the code, I don't know the tinymce part of WP, either Gutenberg at all, but it's a major issue, no doubt about that.
I will do my best to resolve this somehow, hopefully before the end of the month.