Join GitHub today
GitHub is home to over 36 million developers working together to host and review code, manage projects, and build software together.
Sign up
New issue

Have a question about this project? Sign up for a free GitHub account to open an issue and contact its maintainers and the community.

By clicking "Sign up for GitHub", you agree to our terms of service and privacy statement. We'll occasionally send you account related emails.

Already on GitHub? Sign in to your account
Fix: DateTimePicker styles don't load as expected outside WordPress context
#15389
Conversation
Closes: #8870
I started this PR with the objective of closing #8870 which is a very old issue. Meanwhile, I noticed the arrow styles referenced on the issue were already fixed, but the component still had some styling problems outside WordPress this PR fixes these problems.
Before:

After:

How has this been tested?
I pasted the following gist https://gist.github.com/jorgefilipecosta/6e55059202ccbcb683a56f0546ea6f93 on playground/src/index.js.
I executed the playground and verified the DateTimePicker component appears with the same look as it appears inside WordPress context e.g: the post scheduler.
Copy link
Member
aduth left a comment
1 check passed
Travis CI - Pull Request Build Passed
Details
jorgefilipecosta deleted the

fix/datetimepicker-component-styles-dont-load-as-expected

branch Jun 3, 2019
This comment has been minimized.
Hi @aduth I tried to removed the input styles, and the result was unexpected: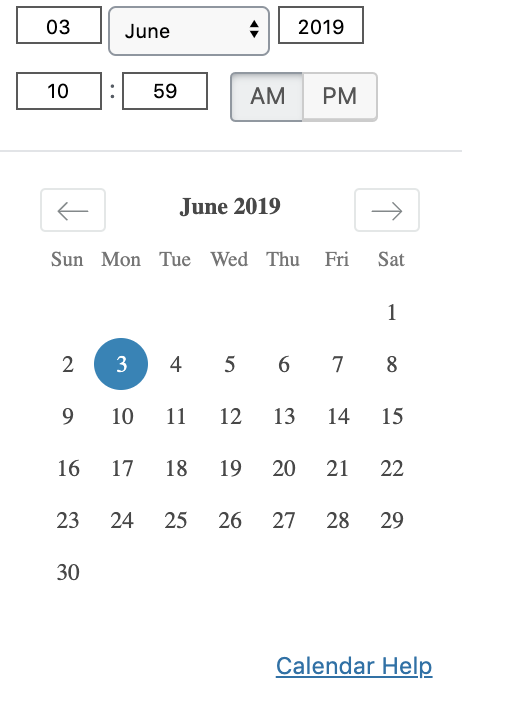 So I decided to keep them if I missed something feel free to comment, and I will open a follow-up PR.
jg314 added a commit to jg314/gutenberg that referenced this pull request Jul 19, 2019
Add this suggestion to a batch that can be applied as a single commit.
This suggestion is invalid because no changes were made to the code.
Suggestions cannot be applied while the pull request is closed.
Suggestions cannot be applied while viewing a subset of changes.
Only one suggestion per line can be applied in a batch.
Add this suggestion to a batch that can be applied as a single commit.
Applying suggestions on deleted lines is not supported.
You must change the existing code in this line in order to create a valid suggestion.
Outdated suggestions cannot be applied.
This suggestion has been applied or marked resolved.
Suggestions cannot be applied from pending reviews.