Join GitHub today
GitHub is home to over 40 million developers working together to host and review code, manage projects, and build software together.
Sign up
New issue

Have a question about this project? Sign up for a free GitHub account to open an issue and contact its maintainers and the community.

By clicking "Sign up for GitHub", you agree to our terms of service and privacy statement. We'll occasionally send you account related emails.

Already on GitHub? Sign in to your account
Remove clearing the block selection on sidebar tab switch
#18621
Conversation
Description
Closes #18239
How has this been tested?
Tested locally.
Screenshots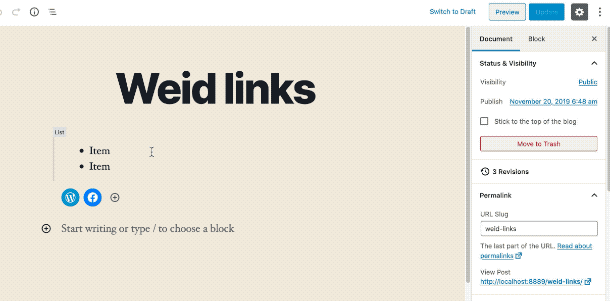 Types of changes
It is a simple update of the settings-header that removes the call to clearSelectedBlock.
Checklist:
My code is tested.
My code follows the WordPress code style.
My code follows the accessibility standards.
My code has proper inline documentation.
I've included developer documentation if appropriate.
I've updated all React Native files affected by any refactorings/renamings in this PR. .
Hi, this works as expected from the code point of view. But I would wait on feedback from @jasmussen as the original author of #6887 before merging.
This comment has been minimized.
Thanks. I've shared with Andrei that I think this is one of those things that, if it's a trivial amount of code, we can just go ahead and try it. I'm still not convinced it's actually preferable behavior, but if we merge and dislike, we can always revert. So no blockers from me!
talldan
merged commit
a06542d
into
master
Dec 3, 2019
2 checks passed
talldan
deleted the
try/keep-block-selection-on-document-tab
branch
Dec 3, 2019
youknowriad
added this to the
Gutenberg 7.1
milestone
Dec 9, 2019
draganescu
mentioned this pull request
Dec 12, 2019
Add this suggestion to a batch that can be applied as a single commit.
This suggestion is invalid because no changes were made to the code.
Suggestions cannot be applied while the pull request is closed.
Suggestions cannot be applied while viewing a subset of changes.
Only one suggestion per line can be applied in a batch.
Add this suggestion to a batch that can be applied as a single commit.
Applying suggestions on deleted lines is not supported.
You must change the existing code in this line in order to create a valid suggestion.
Outdated suggestions cannot be applied.
This suggestion has been applied or marked resolved.
Suggestions cannot be applied from pending reviews.
Suggestions cannot be applied on multi-line comments.