Collabora Online for YunoHost
This package allows you to install Collabora Online quickly and simply on a YunoHost server. If you don't have YunoHost, please consult the guide to learn how to install it.
Overview

LibreOffice-based online office suite with collaborative editing

Shipped version: 6.4.10~ynh2
Screenshots
Disclaimers / important information
Configuration

Settings: The settings of Collabora are at https://office.domain.tld/loleaflet/dist/admin/admin.html.
User: admin
Password: The password set during the installation. (If you forgot it, you can find it again in /etc/loolwsd/loolwsd.xml).
Connexion to Nextcloud

If you want to connect with Nextcloud, you have to install the Collabora Online app in Nextcloud, and configure it with the domain of your Collabora installation.

⚠️ There are several Collabora Online apps. Be sure not to install the Collabora Online - Built-in CODE server apps, which are a lightwheigt version of this Collabora package. ⚠️
Limitations

ARM platform not supported. If you want to run Collabora on Nextcloud, there is a lightweight version of the Collabora server for ARM, called Collabora Online - Built-in CODE Server (ARM64) which can easily connect with the Collabora Online app.

CODE has a warning limitation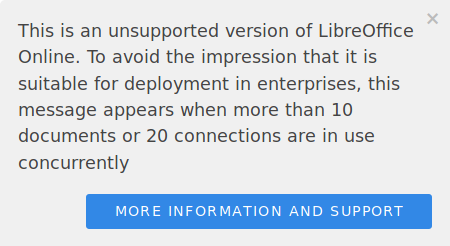 Documentation and resources
Developer info

Please send your pull request to the testing branch.

To try the testing branch, please proceed like that.
sudo yunohost app install https://github.com/YunoHost-Apps/collabora_ynh/tree/testing --debug
or
sudo yunohost app upgrade collabora -u https://github.com/YunoHost-Apps/collabora_ynh/tree/testing --debug

More info regarding app packaging: https://yunohost.org/packaging_apps