Modus

https://modus-app.herokuapp.com/

Like the vibe of a song and looking for a playlist of similar tracks? Modus allows you to enter the artist's name and title of a song and will serve up 100 songs to match the mood. You can save any songs you like to your own list for later.

Modus is a single page app with a one to many relationship using AngularJS for the front end and Ruby on Rails for the backend, which consumes the Last.fm API. Created in a one week sprint, this application follows MVC file organization and user authentication is handled through JSON Web Tokens.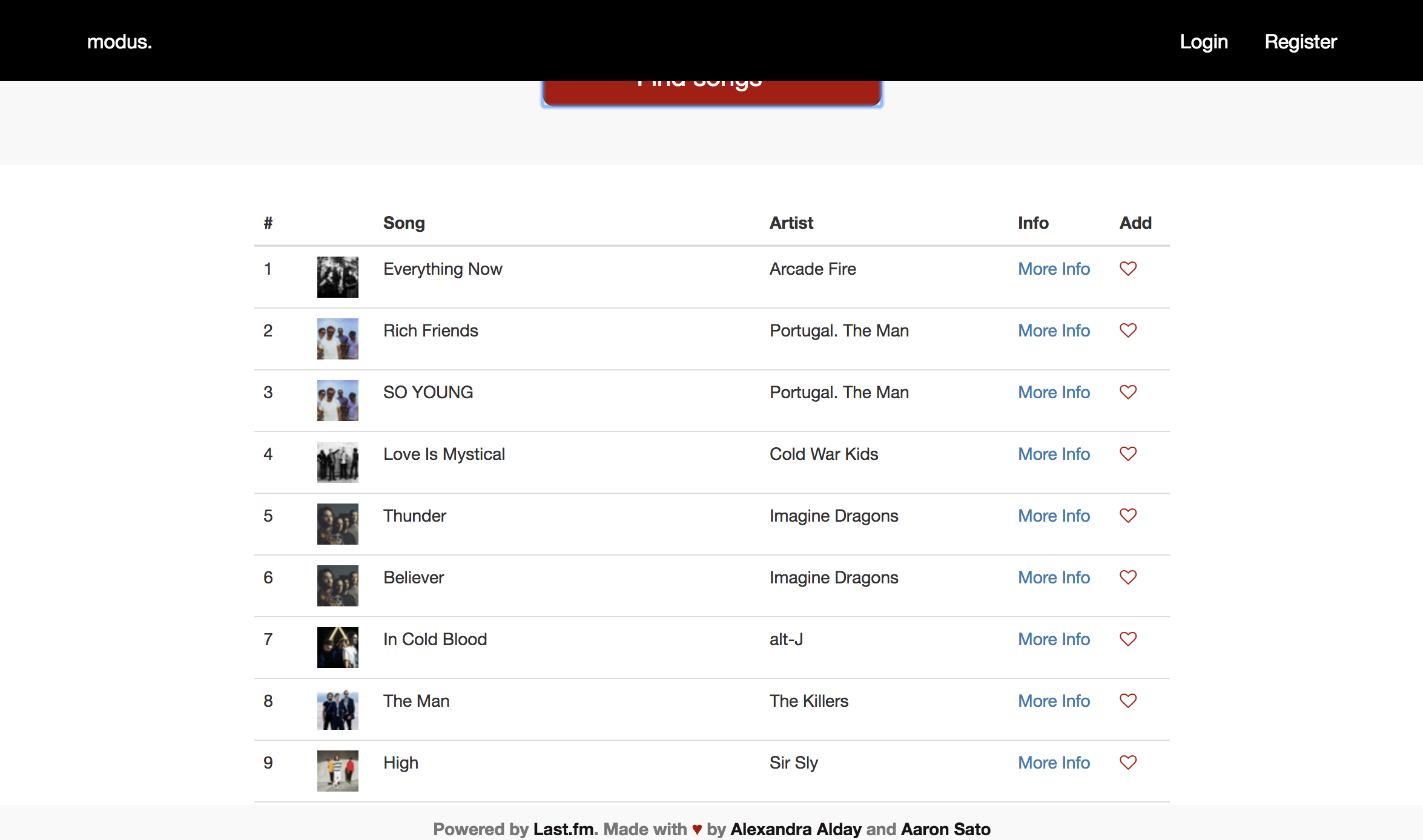 Team
Alexandra Alday
Aaron Sato
Technologies Used:
HTML
CSS
JavaScript
jQuery
Node.js
Express.js
AngularJS
Ruby
Rails
Server:
Packages Used:
API Used:
Design
Bootstrap
Font Awesome
Angular Animate
User Stories:

The user profile of this application is twofold:

First, general users of this application are people who wish to search for similar songs without saving them to their profile.
Users land on the home page and can search for similar songs
Users can click on more information on each search result
Another user of this application is the registered user who logs in to maintain their own profile and songs.
Registered users can log in to manage their profile content
Registered users can add a song to their saved songs
Registered users can view their saved songs and edit or delete them
Registered users can delete their account
Features In Progress:
Would like to add the ability to play a song directly from the application by incorporating the YoutubeAPI
Only allow a user to like a song once
Allow other users to see each others saved songs