Join GitHub today
GitHub is home to over 31 million developers working together to host and review code, manage projects, and build software together.
Sign up
New issue

Have a question about this project? Sign up for a free GitHub account to open an issue and contact its maintainers and the community.

By clicking "Sign up for GitHub", you agree to our terms of service and privacy statement. We'll occasionally send you account related emails.

Already on GitHub? Sign in to your account
Select
#60
Comments
Collating a few thoughts / experiments on <select>'s
Styled selects
Although the current version of the <select> component in GOV.UK Frontend has some styles it's appearance is largely dictated by the browser default. Therefore a <select> in Chrome will look different to a <select> in Safari, IE, Edge, FF etc. This can cause alignment issues if a select is used as part of a group of components and generally doesn't feel like part of the visual style of GOV.UK.
I have an example of a styled select experiment on this codepen
iOS spinner control content cropping
Using the default <select> markup, the options that an iOS user will see will be cropped if they are around 30 characters (it may be fewer on a smaller device - test was done on an iPhone 7).
For this reason options should be front loaded to emphasise the differences.
Prefixing options like this:
Cool black t-shirt with GOV.UK Logo - Size M
Cool black t-shirt with GOV.UK Logo - Size L
has a greater chance of the important information being cropped off than if you front loaded the information that made the options different.
Medium - Black GOV.UK Logo T-shirt
Large - Black GOV.UK Logo T-shirt
The <optgroup> hack
You can force iOS to "shrink to fit" the full text of every option in a <select> by adding an empty <optgroup> to the the list of options. Of course if you are genuinely using <optgroup>'s in your <select>'s then this will also just work.
There is an example of this on this codepen
Please note the <optgroup> itself has a physical size so if you add an empty <optgroup> you will see an extra space at the bottom of the <select>. In this example I have used display: none; to remove this.
Legend > Radios / Checkboxes alternative to <select>
This idea is purely a conceptual untested experiment
As many of the usability issues of <select>'s are around the behaviour of the native HTML component, if you genuinely need to collapse a group of options creating a custom select component could be an option.
This is a quick example I put together which could progressively enhance a <legend>, <fieldset> using JavaScript to reveal a group or radios or checkboxes.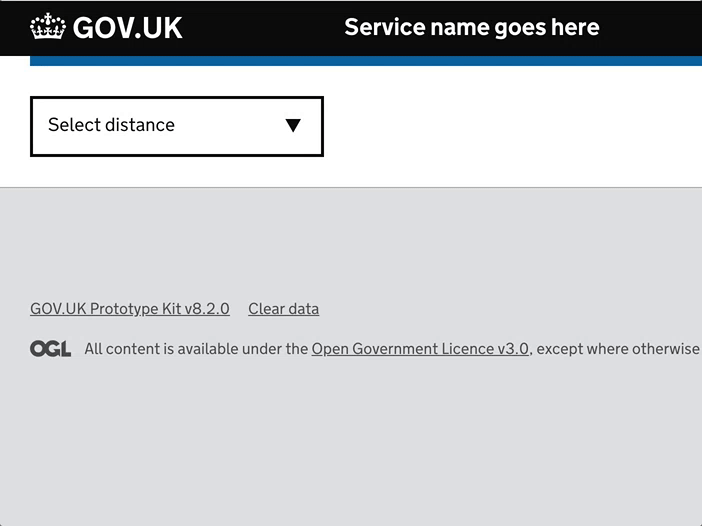 Although the current version of the <select> component in GOV.UK Frontend has some styles it's appearance is largely dictated by the browser default.
Note that there was a previous attempt to style the select element but it was never merged because we found there were issues making the (recreated) arrow indicator visible in browsers where the user had overridden colours.
Can we add some examples of when it is okay to use a select component? Or if we don't have any, we should more explicitly say 'We have not seen any examples of a select component being necessary'.
At the moment the current guidance "select should only be used as a last resort" seems a little vague.
It's a good question. The idea of the current guidance is to try other things before using a select, as we know they have various problems.
I think there's a good example of usage on Find a job (via @dashouse)
I'm referring specifically to the 'sort by' select. Caveat - I haven't seen any research on this particular example.
In this case, there is not much space to use radios - they would push the main content down the page a lot.
The select has the 'right' number of items in it, few enough that you don't need to scroll within it, which is a problem for users. But more than two, which would probably be better as radios.
Finally, the 'sort by' control is where users might expect it, from using other sites - at the top right, so redesigning the control and placing it elsewhere might not be a good option.
Subtly suggesting I should go get a job somewhere else with that link? 😉
I think there's a couple of options that are available to Find a Job here - One being to have radio buttons over on the left-hand side with the filters, the other being to have a horizontally aligned list, like a nav bar, in place of the select. In terms of accessibility, I would have thought the first would be better as then the filter/sort tools are grouped together which lets people refine what they are looking at it in the same place.