Join GitHub today
GitHub is home to over 28 million developers working together to host and review code, manage projects, and build software together.
Sign up
New issue

Have a question about this project? Sign up for a free GitHub account to open an issue and contact its maintainers and the community.

By clicking "Sign up for GitHub", you agree to our terms of service and privacy statement. We'll occasionally send you account related emails.

Already on GitHub? Sign in to your account
Nationality
#73
Comments
What
How to ask for someone's nationality
Why
Services using this pattern:
Anything else:
Research update
On 18 April 2018, I asked the Digital Service Designers mailing list for examples and user research relating to asking users for nationality. I have included the findings and examples below, as well as some suggested next steps for progressing the pattern.
Findings
services need to accommodate users with more than one nationality
some users need to be able to search for countries of nationality in their native language
some services ask users to provide their response in the format of nationality, some ask for a country of nationality, and some - like Register to vote - use a combination.
most services mentioned used an autocomplete
when using an autocomplete, if the field appeared right at the bottom of the viewport, users didn't always see the autocomplete list when it appeared
some services direct users to the nationality on their passport to check
using the term country can be problematic and doesn't cover every instance - for example Hong Kong and Taiwan: some services used region or territory instead or in addition to country, to cover all cases
Examples
Register to vote: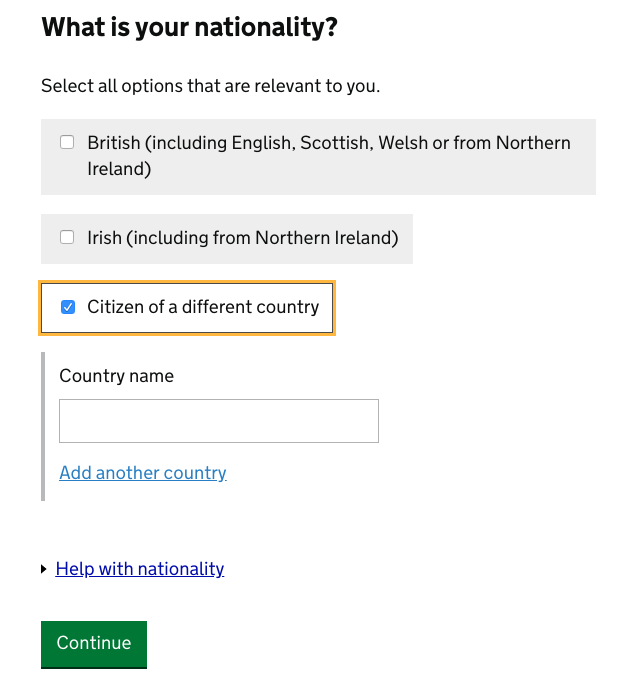 Tier 2 and international visa:
Registered traveller:
Electronic visa waiver:
Next steps
Based on the findings and examples shared here, I think future research needs to focus on:
the best way to ask users for their nationality, for example: "What is your nationality?" or "What is your country of nationality?"
how to support all use cases, for example: country or territory; country or region; region; location
how to support aliases, spelling errors and other possible variations in users' responses
Finally, it seems likely that the finished pattern will recommend using an autocomplete, which might make the work on that component #4 a dependency for publication.