Join GitHub today
GitHub is home to over 50 million developers working together to host and review code, manage projects, and build software together.
Sign up
GitHub is where the world builds software
Millions of developers and companies build, ship, and maintain their software on GitHub — the largest and most advanced development platform in the world.
New issue

Have a question about this project? Sign up for a free GitHub account to open an issue and contact its maintainers and the community.

By clicking "Sign up for GitHub", you agree to our terms of service and privacy statement. We'll occasionally send you account related emails.

Already on GitHub? Sign in to your account
Ensure only the post being edited in the classic editor is queued for validation
#1424
Conversation
When a post is saved via the classic editor it needs to be re-validated on the frontend to show the validation warning: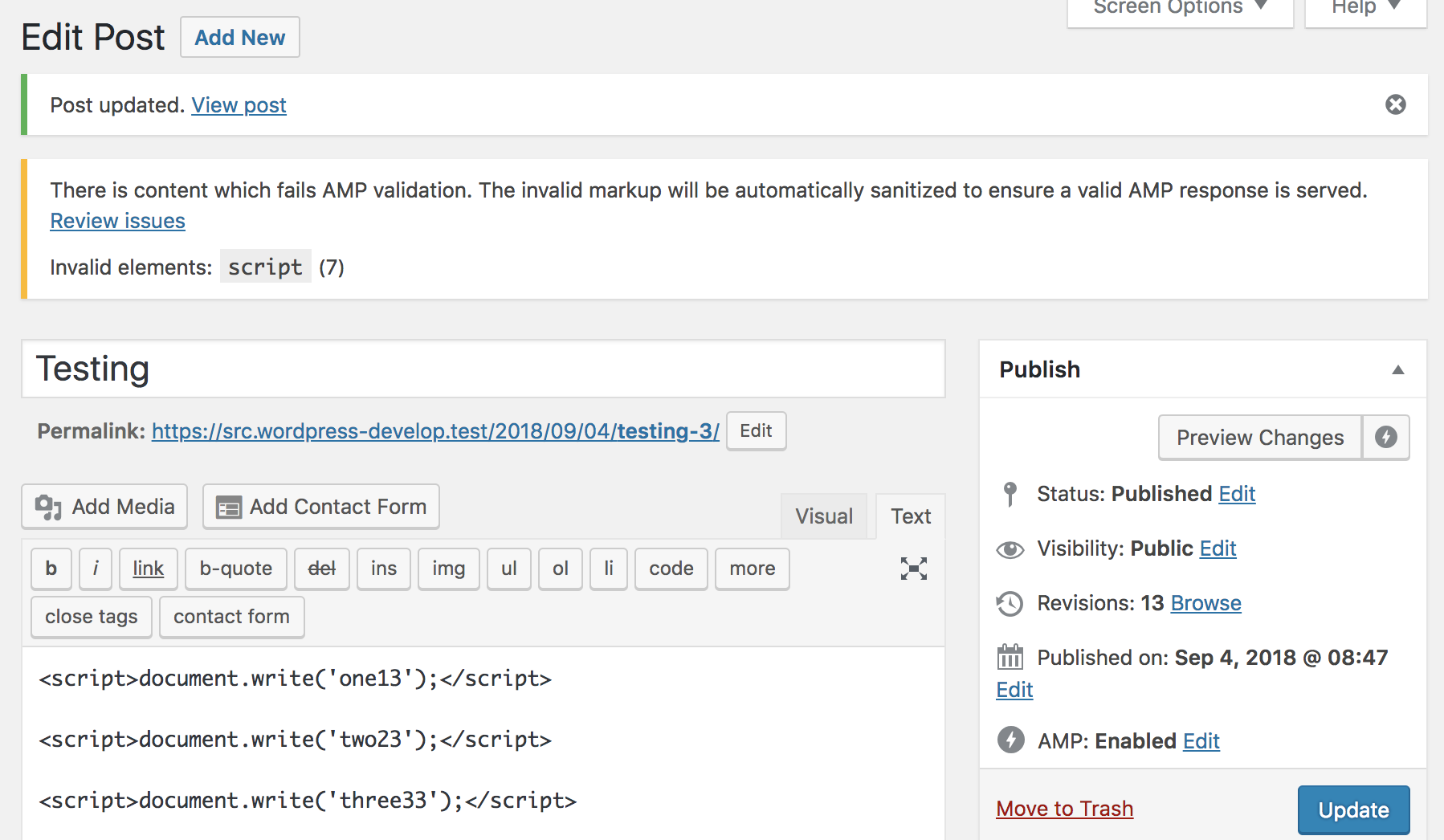 However, at present the save_post action is being used in a way that other post edits are also causing re-validation to happen for them as well. This is particularly problematic when doing a mass import of posts.
So what is needed is to restrict the save_post action to only follow-through when we are explicitly saving changes for a specific post in the classic editor.
Note that this is all much cleaner for Gutenberg because we can rely on the REST API field to manage the re-validation.
Fixes #1404.
westonruter
added this to the
v1.0
milestone
Sep 12, 2018
westonruter
mentioned this pull request
Sep 12, 2018
westonruter
merged commit
f7b8112
into
develop
Sep 13, 2018
2 checks passed
westonruter
deleted the
fix/classic-editor-post-save-validation
branch
Sep 13, 2018
@westonruter it worked perfectly with WooCommerce CSV import and WordPress xml import.
Add this suggestion to a batch that can be applied as a single commit.
This suggestion is invalid because no changes were made to the code.
Suggestions cannot be applied while the pull request is closed.
Suggestions cannot be applied while viewing a subset of changes.
Only one suggestion per line can be applied in a batch.
Add this suggestion to a batch that can be applied as a single commit.
Applying suggestions on deleted lines is not supported.
You must change the existing code in this line in order to create a valid suggestion.
Outdated suggestions cannot be applied.
This suggestion has been applied or marked resolved.
Suggestions cannot be applied from pending reviews.
Suggestions cannot be applied on multi-line comments.