Join GitHub today
GitHub is home to over 28 million developers working together to host and review code, manage projects, and build software together.
Sign up
New issue

Have a question about this project? Sign up for a free GitHub account to open an issue and contact its maintainers and the community.

By clicking "Sign up for GitHub", you agree to our terms of service and privacy statement. We'll occasionally send you account related emails.

Already on GitHub? Sign in to your account
Compression options for tarball are disabled
#317
Comments
I can't remember the exact version but it isn't possible to change the tarball creation compression settings.
TIA
@applebait I'm not sure what you mean.
Note that TAR does not compress data, so no method selection here: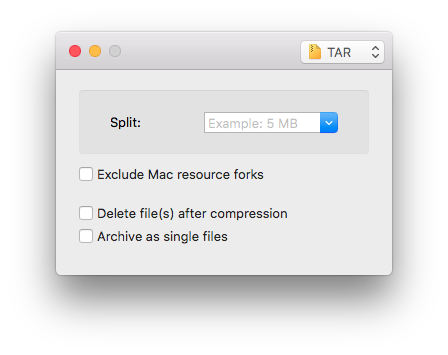 For GZIP, BZIP, XZ and LZIP, you can choose the method. Those are the TARBALLs:
@applebait just checked and even version 0.1.2.1 (from 2009) has this option disabled in the preferences. This was the behaviour since the first begging, since TAR has no compression and this combo is useless there. GZIP, BZIP, XZ or LZIP can create tarballs and since they provide compression the combo is activated.
It was funny to check out 2009 work anyway. Thanks for the feedback @applebait 😊
Can I upload a video here? I swear it allowed us to choose a tarball with or without compression… :/
You can upload it to YouTube/Dropbox or your preferred site and attach the link :)
Oh boy, you're right! :) I'm really sorry! I've checked and as soon as I choose the TAR method again the compression field gets greyed out. What was tricking me was this compression option that if we choose ZIP with some compression as soon as we choose TAR we can't switch it back to No Compression. This now makes sense if you say the TAR is a file with no compression.
if we choose ZIP with some compression as soon as we choose TAR we can't switch it back to No Compression
You see, that is a point. Maybe the method combo should be set to "No compression" once TAR (DMG & ISO too) is selected there, but those are two different settings and the method setting affects to the rest of the formats from the Advanced Window.
Maybe this can be enhanced like:
Non compression format selected

Set the combo to "No compression"
Keep the default method (applied with compression formats) to "Normal"
Thanks @applebait!