Join GitHub today
GitHub is home to over 36 million developers working together to host and review code, manage projects, and build software together.
Sign up
New issue

Have a question about this project? Sign up for a free GitHub account to open an issue and contact its maintainers and the community.

By clicking "Sign up for GitHub", you agree to our terms of service and privacy statement. We'll occasionally send you account related emails.

Already on GitHub? Sign in to your account
[Feature request] Intra Dashboard Interaction (Publish Subscriber Design Pattern)
#7512
Comments
Most of BI Tools have features of Data Drill Down and Dashboard Linking but superset doesn't have this in design so this is Design Proposal to add these features in superset and we can serve below use cases
Use cases
Intra Dashboard Interactivity means whenever user do selection over any visualization/chart in Dashboard then selection of that chart can apply to rest/set of charts in following manner depends on UX/Usecases-
Apply as filters/global filters in sql query as where clause with required query operators referred as applyFilter
Change model or schema of chart referred as changeConfig
Show information in popup referred as showPopup
Redirect to new URL or any other dashboard url referred as redirectToUrl
Mix of any action listed above referred as applyFilter and configChange
Selection sync or highlight same selections in different charts referred as highlightSelections
Design
To solve above use cases here is a design proposal to implement above feature in superset and calling it as Publish Subscriber Design Pattern , in this any charts which is used for selection (via click or user-interaction) called as Publisher and rest /set of charts listening these selections and update itself based on action defined called as subscribers.
refer to following terminology
Publisher - any chart publish selection on click
Publish Columns - list of columns and respective data published in form of selection
Subscriber- any chart subscribe selections published by publisher
Action - action need to execute on subscription, actions can be any above use case listed in introduction (1-6)
Operator- SQL query operators used while creating where clause like =,!=,IN etc
Subscribe Columns- subscriber can choose columns from publish columns before execute action
Extra- store extra metadata required like publish value can map with chart ids to dynamic chart changes
Interactor - acts mediator between charts and dashboard to identify publisher, subscriber and execute action with correct information
PubSubMetaData - metadata info related to publisher and subscriber
Design Flow screenshot
Over all design flow diagram
** 2. UI for get info of publishers and subscribers from user**

Steps
1.There is a option on Dashboard to configure above parameters
2. A separate UI at dashboard level open to set PubSub info from USER and store it as PubSubMetaData .
3. once user will choose this option and it will store in Dashboard state and MetaData.
Describe alternatives you've considered
We can implement above design in two stages
Phase -I
All Pub sub info will be store at Chart level in form data and new options will be defined and added in PubSub section of Chart
PubSubMetaData will be created from slices and store at dashboard level and Options of Reconcile will be provided at dashboard level
once user will choose this option PubSubMetaData will create and store
interactor will be implemented as per design.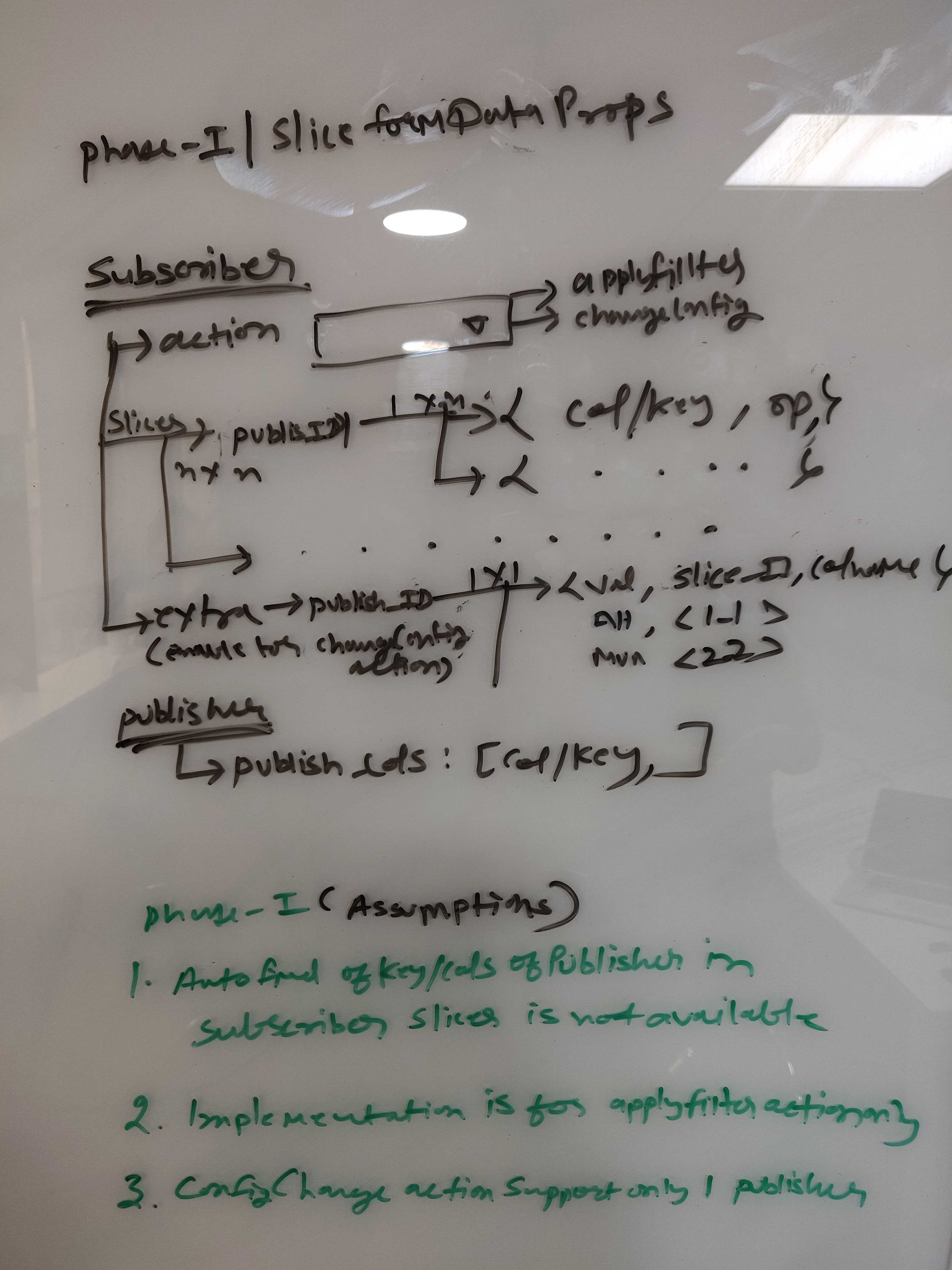 Phase -2
Designed UI will be implemented as per design and read all pubsub info from UI instead slices formdata
Reconcile option change to Configure Filters and update functionality
Additional context
NA
If anyone have any thoughts related to this type of feature then we can have a discussion further .
Issue-Label Bot is automatically applying the label #enhancement to this issue, with a confidence of 0.95. Please mark this comment with 👍 or 👎 to give our bot feedback!
Links: app homepage, dashboard and code for this bot.
jitendra-kumawat changed the title [Feature] Intra Dashboard Interaction (Publish Subscriber Design Pattern) May 15, 2019
@xtinec , if you have any thoughts over this design we can discuss .