Join GitHub today
GitHub is home to over 36 million developers working together to host and review code, manage projects, and build software together.
Sign up
New issue

Have a question about this project? Sign up for a free GitHub account to open an issue and contact its maintainers and the community.

By clicking "Sign up for GitHub", you agree to our terms of service and privacy statement. We'll occasionally send you account related emails.

Already on GitHub? Sign in to your account
There is ONLY ONE metric in Filter Box, why NOT support multiple metries 'Metric' field?
#7513
Comments
A clear and concise description of what the bug is.
Expected results
Thanks a lot for your nice help in advance!
Metric in Filter Box Visualization Type should be able to have multiple metris.
Actual results
So far, I could choose ONLY ONE metric in the "Metric" filed.
Screenshots
See the picture below: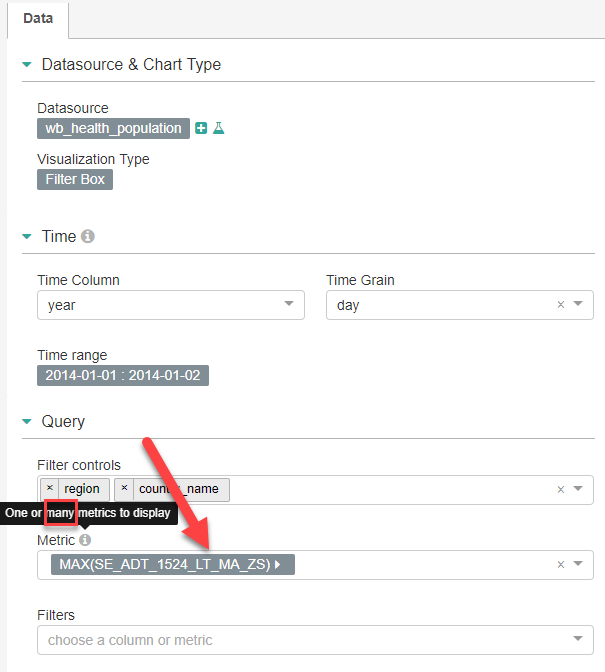 How to reproduce the bug
Click on Query section, Metric field, and however I tried to add a second metric, I always failed.
My question here is WHY there is ONLY ONE metric?
Is this by design or a bug/limitation?
Thanks!
Environment
(please complete the following information):
superset version: [e.g. v0.29, master, commit]
0.28.1

python version: python --version
(venv) [root@rrswljg003 superset]# python3 --version
Python 3.7.3

node.js version: node -v
Not installed.

npm version: npm -v
Not intsalled.
Checklist
Make sure these boxes are checked before submitting your issue - thank you!
I have checked the superset logs for python stacktraces and included it here as text if there are any.
I have reproduced the issue with at least the latest released version of superset.
I have checked the issue tracker for the same issue and I haven't found one similar.
Additional context
Thanks a lot again!
Issue-Label Bot is automatically applying the label #bug to this issue, with a confidence of 0.69. Please mark this comment with 👍 or 👎 to give our bot feedback!
Links: app homepage, dashboard and code for this bot.