Join GitHub today
GitHub is home to over 50 million developers working together to host and review code, manage projects, and build software together.
Sign up
New issue

Have a question about this project? Sign up for a free GitHub account to open an issue and contact its maintainers and the community.

By clicking "Sign up for GitHub", you agree to our terms of service and privacy statement. We'll occasionally send you account related emails.

Already on GitHub? Sign in to your account
Occasionally Cannot Move Selections
#1584
Comments
Sometimes when I make a selection, I cannot move it by clicking and dragging. In old versions, the mouse used to change to a different when you moused over a selection. Now, it never changes.
Sometimes I can move the selection and sometimes I cannot. I can't tell what makes the difference if I can or can't, since the icon doesn't change. I can click and it'll work, and I can click and it can not.

I am holding down no keys when I do this, and as can be seen the Marquee Tool is active.
Here is me moving a selection without the icon changing until after I click: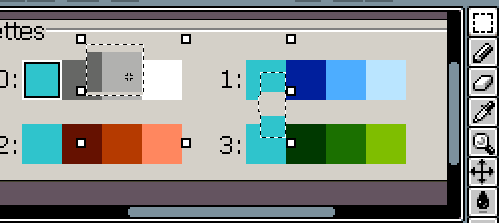 My keyboard shortcuts file, which may be related. I disabled shift to add selection because I liked being able to press shift before I clicked to drag. Everything used to work in latest beta, and I have changed nothing that I am aware of.
Edit: Ah. I am on "Add to selection mode". In previous versions I used this so I could add/move with left click, and subtract with right click. No keyboard keys needed to add, subtract OR move the selection. Perhaps it is this mode that has changed. I very, very much prefer how it was in 1.2-beta12 if it has changed.
Aseprite v1.2.2 Steam, Windows Vista 32 Bit
dacap
self-assigned this
Oct 3, 2017
dacap
added the
feature
label
Oct 3, 2017
dacap
added this to the
v1.2
milestone
Oct 3, 2017
KasumiArai
closed this
Oct 3, 2017