New issue

Have a question about this project? Sign up for a free GitHub account to open an issue and contact its maintainers and the community.

By clicking "Sign up for GitHub", you agree to our terms of service and privacy statement. We'll occasionally send you account related emails.

Already on GitHub? Sign in to your account
Bug: Colour picker hex input field autocompletes too early; too often.
#1632
Comments
The text input field in the colour picker is way too hasty in autocompleting hex values, and it has made trying to enter them from keyboard practically impossible. This problem only seems to occur in indexed colour mode.
As it is, the field only lets me enter three or four of six digits before it autocompletes, filling every space up to the sixth with zeroes or calculating a minimum (#000000) or maximum (#ffffff) value if there are more than six characters. When I enter the next character in the hex value, the field clears any excess characters from the beginning of the value, making a mess of the whole thing.
See for yourself: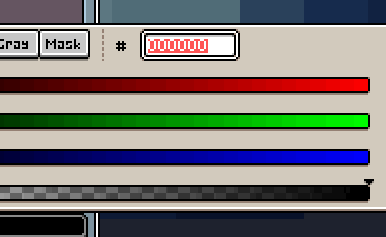 Perhaps the input field could be altered to wait until the input box loses focus before it tries to fill in vacant spaces with zeroes and/or recalculate a max/mix value? Alternatively, clearing excess characters from the end of the hex value instead of the beginning would probably also resolve this issue.
Copy/paste works, of course, and will do in the interim. But direct input from keyboard (rather than clipboard) is nightmarish.
Thanks for considering it! :D
..using ASEprite 1.2.5-x64 on Win10.
The text was updated successfully, but these errors were encountered:
oceanhahn
mentioned this issue
Dec 24, 2017
dacap
added this to the
v1.2
milestone
Feb 19, 2018
dacap
self-assigned this
Feb 20, 2018
dacap
added the
bug
label
Feb 20, 2018
dacap
closed this in
5d9bbe6
Feb 20, 2018
oceanhahn
mentioned this issue
Dec 19, 2018