Atelier Schemes for Vim

NOTE: The file-names for the colorschemes of AtelierSchemes for Vim, which now come with support for Airline have been renamed from base16-atelier<scheme> to Atelier_<scheme>Dark.

So instead of defining in vimrc:
colorscheme base16-atelierforest

it is now:
colorscheme Atelier_ForestDark

or

colorscheme Atelier_ForestLight

I'm sorry for any inconvenience.
---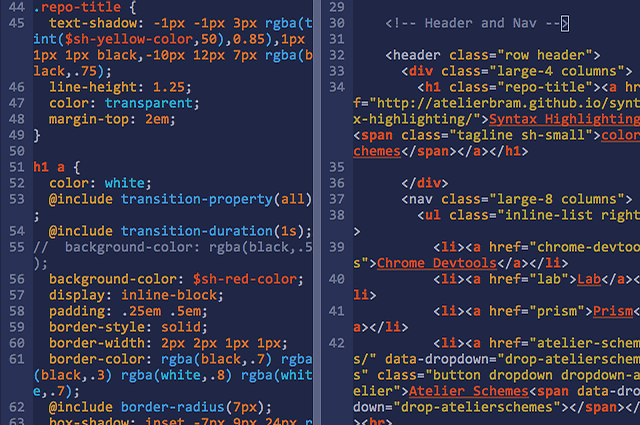 screenshot of Sulphurpool (dark version) in Vim
NOTE: These color schemes are optimized and have been tested in the GUI version of Vim, and not the terminal version. For a more seamless experience: these same color schemes have also been ported to iTerm2.
Easy clone Atelier Schemes for Vim colorschemes, with plugin manager Pathogen.
Installation
Option 1: Manual installation
Move base16-atelier*.vim to your .vim/colors directory. After downloading the vim script or package:
$ 

cd

 vim-colors_atelier-schemes/colors
$ mv 

*

.vim 

~

/.vim/colors/
(recommended)
Option 2: Pathogen installation
Download and install Tim Pope's Pathogen.

Next, move or clone the vim-colors_atelier-schemes directory so that it is a subdirectory of the .vim/bundle directory.
a. Clone:
$ 

cd

 

~

/.vim/bundle
$ git clone https://github.com/atelierbram/vim-colors_atelier-schemes.git
b. Move:
In the parent directory of vim-colors_atelier-schemes:
$ mv vim-colors_atelier-schemes 

~

/.vim/bundle/
Modify .vimrc

After either Option 1 or Option 2 above, put the following two lines in your .vimrc:
syntax

 

enable




set

 

background

=

dark


"

 or, for the light background mode:


"

 set background=light



"

 dark


colorscheme

 Atelier_ForestDark


"

 or any of the other schemes:


"

 colorscheme Atelier_HeathDark


"

 colorscheme Atelier_CaveDark


"

 colorscheme Atelier_SulphurpoolDark


"

 colorscheme Atelier_LakesideDark


"

 colorscheme Atelier_SavannaDark


"

 colorscheme Atelier_SeasideDark


"

 colorscheme Atelier_EstuaryDark


"

 colorscheme Atelier_DuneDark



"

 light


"

 colorscheme Atelier_ForestLight


"

 colorscheme Atelier_HeathLight


"

 colorscheme Atelier_CaveLight


"

 colorscheme Atelier_SulphurpoolLight


"

 colorscheme Atelier_LakesideLight


"

 colorscheme Atelier_SavannaLight


"

 colorscheme Atelier_SeasideLight


"

 colorscheme Atelier_EstuaryLight


"

 colorscheme Atelier_DuneLight
Airline Support with AtelierSchemes
"

 Airline for AtelierSchemes


"

 dark


let

 

g:

airline_theme

=

'

Atelier_ForestDark

'




"

 or any of the other themes:


"

 let g:airline_theme='Atelier_HeathDark'


"

 let g:airline_theme='Atelier_CaveDark'


"

 let g:airline_theme='Atelier_SulphurpoolDark'


"

 let g:airline_theme='Atelier_LakesideDark'


"

 let g:airline_theme='Atelier_SavannaDark'


"

 let g:airline_theme='Atelier_SeasideDark'


"

 let g:airline_theme='Atelier_EstuaryDark'


"

 let g:airline_theme='Atelier_DuneDark'



"

 light


"

 let g:airline_theme='Atelier_ForestLight'


"

 let g:airline_theme='Atelier_HeathLight'


"

 let g:airline_theme='Atelier_CaveLight'


"

 let g:airline_theme='Atelier_SulphurpoolLight'


"

 let g:airline_theme='Atelier_LakesideLight'


"

 let g:airline_theme='Atelier_SavannaLight'


"

 let g:airline_theme='Atelier_SeasideLight'


"

 let g:airline_theme='Atelier_EstuaryLight'


"

 let g:airline_theme='Atelier_DuneLight'
Credits

Credits to Ethan Schoonover whose Solarized was a model for these colorschemes
License

Copyright (c) 2013 - 2017 Bram de Haan

Released under MIT Licence