Join GitHub today
GitHub is home to over 36 million developers working together to host and review code, manage projects, and build software together.
Sign up
New issue

Have a question about this project? Sign up for a free GitHub account to open an issue and contact its maintainers and the community.

By clicking "Sign up for GitHub", you agree to our terms of service and privacy statement. We'll occasionally send you account related emails.

Already on GitHub? Sign in to your account
Don't listen for arguments from new processes in test or benchmarks
#19455
Conversation
This pull request prevents the following macOS firewall prompt from showing up when running tests: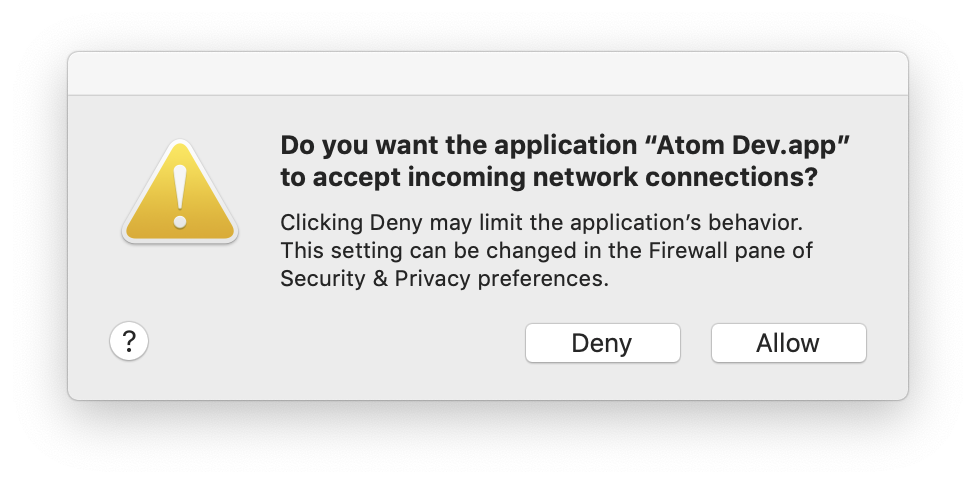 The prompt was being shown because we had some code within listenForArgumentsFromNewProcess that would conditionally create a domain socket file when AtomApplication wasn't being instantiated in test or benchmark environments. For test/benchmark environments, this meant that this.socketPath would be undefined.
Unfortunately, the conditional didn't extend all the way down until listening for incoming connections, which had the unfortunate side effect of calling server.listen with an undefined argument (this.socketPath). In turn, this would instruct Node to listen for any TCP connection on a random port, which would then kick off the firewall given that the machine could potentially accept connections coming from the Internet or LAN.
With this pull request, we are changing that behavior by moving the conditional up, and only call listenForArgumentsFromNewProcess when instantiating a real AtomApplication.
as-cii deleted the

as/fix-firewall-prompt-in-tests

branch Jun 6, 2019
This comment has been minimized.
I am still not sure why autocomplete-plus tests are failing, I am investigating that right now. They seem to fail consistently after #19446 got merged, but I am not really sure how that pull request could cause those tests to fail.
Add this suggestion to a batch that can be applied as a single commit.
This suggestion is invalid because no changes were made to the code.
Suggestions cannot be applied while the pull request is closed.
Suggestions cannot be applied while viewing a subset of changes.
Only one suggestion per line can be applied in a batch.
Add this suggestion to a batch that can be applied as a single commit.
Applying suggestions on deleted lines is not supported.
You must change the existing code in this line in order to create a valid suggestion.
Outdated suggestions cannot be applied.
This suggestion has been applied or marked resolved.
Suggestions cannot be applied from pending reviews.