Join GitHub today
GitHub is home to over 28 million developers working together to host and review code, manage projects, and build software together.
Sign up
New issue

Have a question about this project? Sign up for a free GitHub account to open an issue and contact its maintainers and the community.

By clicking "Sign up for GitHub", you agree to our terms of service and privacy statement. We'll occasionally send you account related emails.

Already on GitHub? Sign in to your account
Commit together with co-authors
#1355
Conversation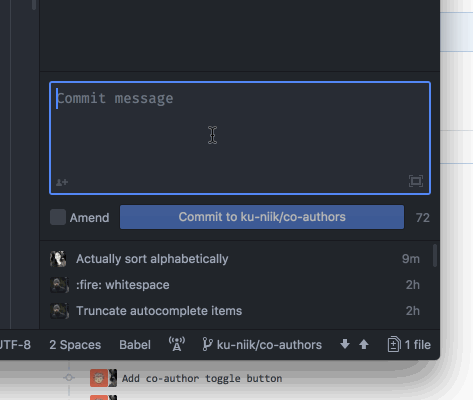 TODO:
update user store after initial loading (what if new commits are pulled with new authors?)
cache invalidation for getAuthors
In separate PRs:
use %x1F delimiter for getRecentCommits
hide behind feature flag
add new author (use prompt similar to CredentialDialog)
get username and avatar url from github graphql API
get rid of web committer (like so)
consider sorting based on most recent authors or # of commits rather than alphabetically
get rid of amend checkbox and implement undo and "amend" right-click instead

as is, clicking the amend checkbox will not strip co-author trailers and you could end up with duplicate co-authors. so we'll want to make this change before shipping to beta
@simurai great question! This PR just pulled author information from Git itself - from the local repository. In another PR we'll grab info from the graphql API and allow people to search via username. We decided on this approach first because we want to cover the base case where the user has a repo but doesn't necessarily have a github remote.
Nice ✨ No blocking changes that I see. Merge whenever you're ready 😄
Huh. What's up with the failing tests, though? They look unrelated... ?
For the sake of getting this feature out so that others can dog-food and provide input we're going to merge this as-is and implement all remaining to-dos in future PRs.
Add this suggestion to a batch that can be applied as a single commit.
This suggestion is invalid because no changes were made to the code.
Suggestions cannot be applied while the pull request is closed.
Suggestions cannot be applied while viewing a subset of changes.
Only one suggestion per line can be applied in a batch.
Add this suggestion to a batch that can be applied as a single commit.
Applying suggestions on deleted lines is not supported.
You must change the existing code in this line in order to create a valid suggestion.
Outdated suggestions cannot be applied.
This suggestion has been applied or marked resolved.
Suggestions cannot be applied from pending reviews.