Join GitHub today
GitHub is home to over 31 million developers working together to host and review code, manage projects, and build software together.
Sign up
New issue

Have a question about this project? Sign up for a free GitHub account to open an issue and contact its maintainers and the community.

By clicking "Sign up for GitHub", you agree to our terms of service and privacy statement. We'll occasionally send you account related emails.

Already on GitHub? Sign in to your account
Use server repository instead of package defined
#1119
Conversation
Requirements
Filling out the template is required. Any pull request that does not include enough information to be reviewed in a timely manner may be closed at the maintainers' discretion.
All new code requires tests to ensure against regressions
Description of the Change
Use the repository URL returned from the atom.io server query as the URL of the repository, instead of the one defined by the package itself in its own metadata to prevent potential for impersonation of other authors.
Before:

After: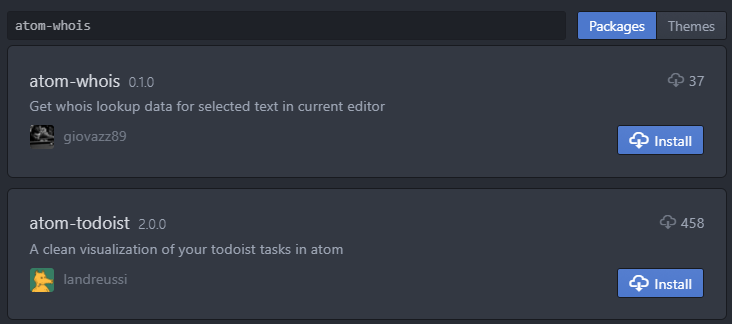 Alternate Designs
Potential enhancements to this include making the atom.io server reject package versions where the metadata in the package doesn't agree with the repository the version is coming from. Since this hasn't been in place from the start though we need to either purge all packages from atom.io that don't match or implement something within Atom to hide this.
Benefits
It should now be impossible to impersonate other authors within Atom's search results when submitting a package.
Possible Drawbacks
The repository defined in the package's metadata from package.json is now entirely ignored in query results. I'm not sure what potential downsides there are to this. It may pose an additional barrier to migrating a package to an another user.
The entire search method is currently untested, so this change may have side-effects that are unaccounted for.
Applicable Issues
Fixes #1118.
This comment has been minimized.
Copy link
Contributor
Author
Hmmm, this fixes it in the search results, however the package still displays the wrong information if it is installed. Since the server side information is no longer available I don't think there is anything that can be done about that though.
Add this suggestion to a batch that can be applied as a single commit.
This suggestion is invalid because no changes were made to the code.
Suggestions cannot be applied while the pull request is closed.
Suggestions cannot be applied while viewing a subset of changes.
Only one suggestion per line can be applied in a batch.
Add this suggestion to a batch that can be applied as a single commit.
Applying suggestions on deleted lines is not supported.
You must change the existing code in this line in order to create a valid suggestion.
Outdated suggestions cannot be applied.
This suggestion has been applied or marked resolved.
Suggestions cannot be applied from pending reviews.