xinyis991105
Breaking Changes
Update Ruby to 2.6.8
Table migrations needed due to new features
Upgrade of old gems
New ruby gems that are added due to the new features.
New Features
GitHub Submission
We now introduce GitHub submission for assessments. Instructors can optionally enable GitHub submission for assessments as they see fit. Students can connect their GitHub account with Autolab and submit from a particular repo's particular branch of theirs directly. See instructions here for how to set up. Once you have set it up for your Autolab instance, you can enable GitHub submission by checking the GitHub submissions checkbox in the assessment settings.

Students can then connect with their GitHub account and submit by selecting a repo's particular branch.

Improvements
Bug Fixes
victorhuangwq
Breaking Changes
Table migrations needed due to new features
New ruby gems that is added due to the new features.
New Features
Autolab Docker Compose
We have finally introduced the new way to install Autolab, using Docker Compose. This is now the preferred way of installing Autolab as it makes installing and maintaining a production ready (i.e. ready for classes!) Autolab. Find the installation instructions here
Student Metrics Feature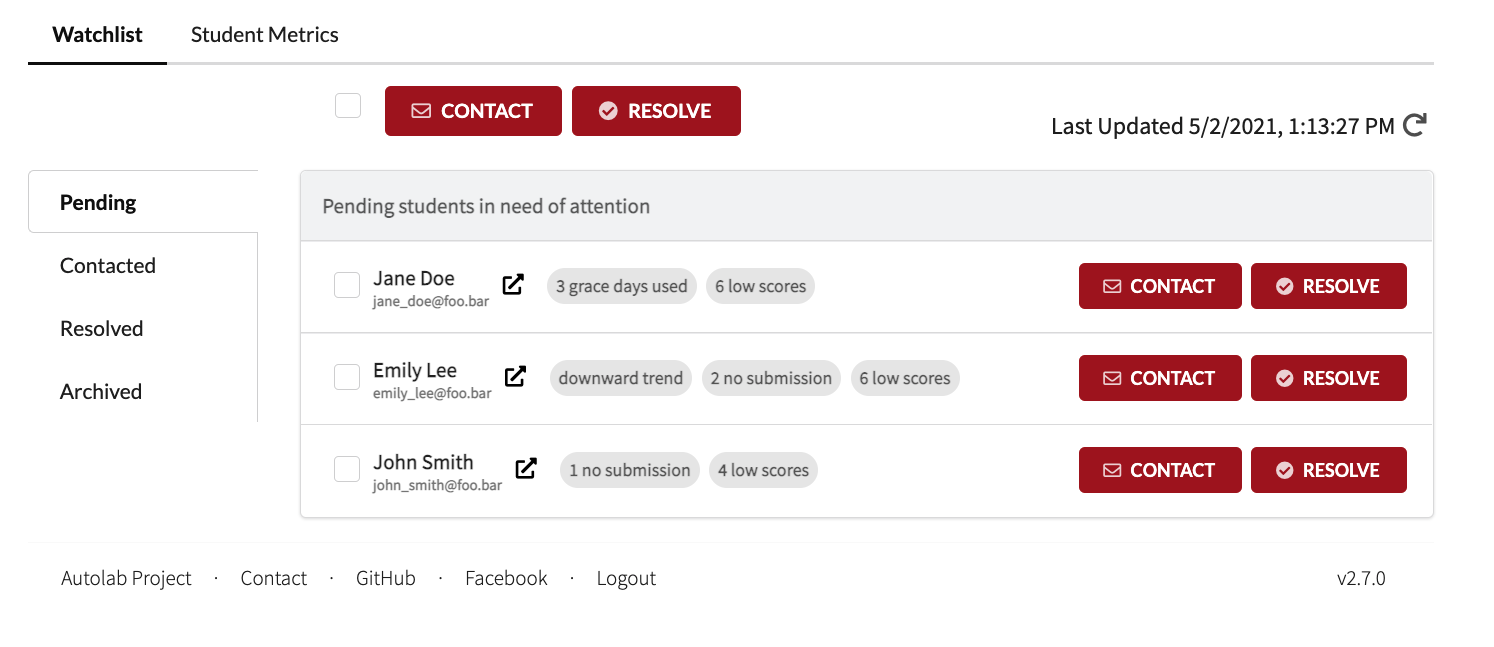 Traditional approaches of identifying students who are struggling with class is reactive; course staff wait for students to come to them to provide help, which can often be too late. We are introducing the new student metrics feature that tracks metrics that signify potential risk, which would help us identify students in need of attention early in the course. Read more about it here
Autolab Documentation
After multiple rounds of review, we have the new and improved Autolab Documentation (which is now also part of the main Autolab repo). It should be easier to navigate and use. Of course we finally made it the iconic Autolab red. Located at the same address as before, https://docs.autolabproject.com/.
Improvements
Bug Fixes
victorhuangwq
Breaking Changes
#1205 Updates Ruby to 2.6.6
New features introduced table migrations that needs to be done.
New Features
Formatted Feedback
#1185 adds the formatted feedback feature by Jala Alamin. The feature was originally introduced in Washington State University Vancouver's version of Autolab.
Course Dashboard
#1143 adds a course dashboard to the course page as a centralize place for course information and course actions. Allows students to see the total number of late days they have remaining easily.
Bug Fixes
Here are the major bug fixes for this version
Improvements
This version in particular, includes various accessibility improvements
Updates from v2.5.0 has been rolled into this release as well, where Autolab has been upgraded from Rails 4 to Rails 5 after almost a year of effort.
fanpu
Speedgrader - The new code viewer
The File Tree shows file hierarchy of student's submission

Click on a file to open
Click on a folder to expand

The Symbol Tree allows you to jump quickly to functions in the student's code

Click on a function to jump

You can easily switch between submissions and files

Up/down arrow keys change file
Right/left arrow keys change submission

How to use new annotation system:

Make annotations with grade adjustments
Important: annotations can only be made for non-autograded problems (to preserve the original autograded score of the autograded problem)
Annotations grade changes summarized by the Annotations table on the right

New: Score for problem automatically updates after annotation score changes based on the following formula (this no longer has to be done manually on the Gradebook):
score = max_score + ∑(annotation score changes)
For example, a way to grade style in a deductive manner would be to set the max score for the Style problem, and make annotations with negative score for style violations and zero score for good style
UI Enhancements
Tables are more standardized
Fixed text overflowing issues on Gradebook modals
Improved standardization and UI for annotations on PDF submissions
Others
Course assistants are now able to submit assignments early
User Experience Improvements and Bug Fixes
Scrubbed erroneous error reporting on install assessment page
Removed app id check on api feedback route
Major Updates, including a brand new Autolab API that works with the Autolab CLI (for more info on this, look at the docs - https://autolab.github.io/docs/api-overview/), various bug fixes, and enhanced error reporting.
#958 Substring fix so you can only see your own jobs on Tango
#954 Automatic timezone based on the browser's timezone
#960 Hide annotations if grading deadline hasn't passed and user is not an instructor
#964 Gradebook typos
#974 Visual way to run/test the scheduler
#981 Statistics fix for excluding excused students
#985 TangoClient retry on certain network errors
#986 Regrade error handling
#987 Error Handling
Workarounds for null constraints in migrations using sqlite instead of mysql
nayak16
nayak16