Join GitHub today
GitHub is home to over 40 million developers working together to host and review code, manage projects, and build software together.
Sign up
New issue

Have a question about this project? Sign up for a free GitHub account to open an issue and contact its maintainers and the community.

By clicking "Sign up for GitHub", you agree to our terms of service and privacy statement. We'll occasionally send you account related emails.

Already on GitHub? Sign in to your account
Using native DOM APIs deletes content
#662
Comments
When using native text insertion APIs like document.execCommand("insertText", false, "foo") arbitrary text within the document gets lost.
Steps to Reproduce
Insert a bullet point list
Now mark "Fooo" and execute document.execCommand("insertText", false, "foo")
See GIF:

I know that there are officially documented ways to replace/insert text into a Trix editor. Many browser add-ons use insertText to modify contents (probably Grammarly). Since insertText just simulates the user pasting text, I guess that this issue is not only about execCommand.
Details
Trix version: 1.2.0
Browser name and version: Reproduced on latest Chrome and Firefox (haven't checked other browsers)
Operating system: MacOS
Update:
I just noticed that the same behaviour occurs when you replace "Fooo" via textContent prop.
So, it's even easier to reproduce by just doing:
document.querySelector("trix-editor li:first-child").textContent = "Foo";

Thanks for the report, Christopher!
Technically, Trix does handle execCommands and direct DOM node modifications. You happened to expose an unrelated rendering issue triggered by having more than one identical block elements on the page. The bug prevented subsequent blocks from rendering even though they were present in the document model. And, this would only happen after an "unexpected" DOM mutation (e.g. a mutation that doesn't correspond with a key press).
So, replacing Fooo in the first list item with Foo made it identical to the third item, causing the third item not to render. Inserting any other text would have worked. 🙃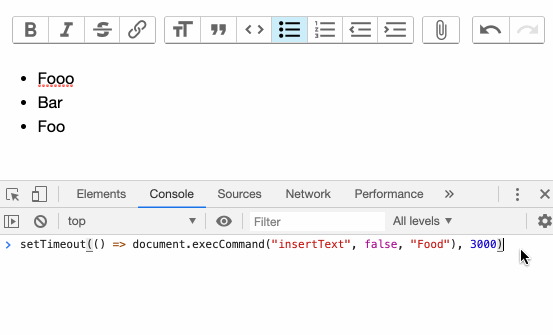 Thanks for reacting so quickly.
Keep up the good work. I think Trix is among all rich text editors the best. With its support for mobile browsers it even outperforms DraftJS.