Join GitHub today
GitHub is home to over 40 million developers working together to host and review code, manage projects, and build software together.
Sign up
New issue

Have a question about this project? Sign up for a free GitHub account to open an issue and contact its maintainers and the community.

By clicking "Sign up for GitHub", you agree to our terms of service and privacy statement. We'll occasionally send you account related emails.

Already on GitHub? Sign in to your account
About 15 trades which cannot be confirmed (payment+mediation) in any way. They lost data in keypub FUNDS-LOCKE FUNDS.
#4072
Comments
I have got several trades from the time period of 11th-14th March what seems they lost connection to the current actions of confirmations. And I cannot confirm anything at them (payment of the peers or mediation proposals). I was on 1.2.8 during them. I reverted to 1.2.7, now I am on 1.2.9, resynced several times, restarting Bisq client, etc., but still I lost possibility for this set of several trades to confirm anything - also payments of the peers and also I cannot confirm or don't have mediation proposals at the trade (only in the mediation box I can see that there is proposal of mediation).
As a seller I got payments from the buyers, but I wasn't unable to confirm the trade in Bisq wallet due to any bug (there is an error during "confirm the payment"). I tried several times, without results.
It went to mediation, mediator proposed the solution to finish the trade, but I cannot do anything.
I suppose what is a reason - I don't have all these transactions in the section FUNDS-LOCKED FUNDS. It seems that my Bisq client lost any information about escrow deposits for these transactions. So this is a reason why I cannot do any action and the error is present. Also a message of the error in Bisq suggest the same things for all these cases. I'm attaching the screenshot and the report file.
The trades are: 1. lixdpd5q-2fe3e778-79b0-4f0c-aa0b-6b890cc5c05c-128 2. isoBOocS-7c18c3c4-000c-4812-bb1f-145e00aefed4-124 3. ZOJHDEQV-120bc973-2340-4554-ad50-779939c1c642-128 4. zp3EakDt-01c7988d-75ae-46e9-874e-79c83f9f8b3f-128 5. nuoiFGM-ec0dff58-e3e3-4dca-88b2-f15254272137-127 6. 26936560-eee52c02-b9a8-4ca4-830a-8a31010a2fff-117 7. LGV1S-aa4692ef-44f7-41f2-b1f7-15f835da10dd-128 8. toKV6Xdf-b08280e0-c482-472e-9fed-5724537e412b-127 9. 9556496-52b5e774-a02e-4805-bd3a-f0e7315f51ad-128 Several other trades will be soon also here.
I think that someone like arbitrator must finish them manually, because mediation cannot generate any real possibility - I totallyt locked out at those above trades, I cannot confirm anything, as above.
I wrote also to Manfred Karrer on Reddit about all these cases.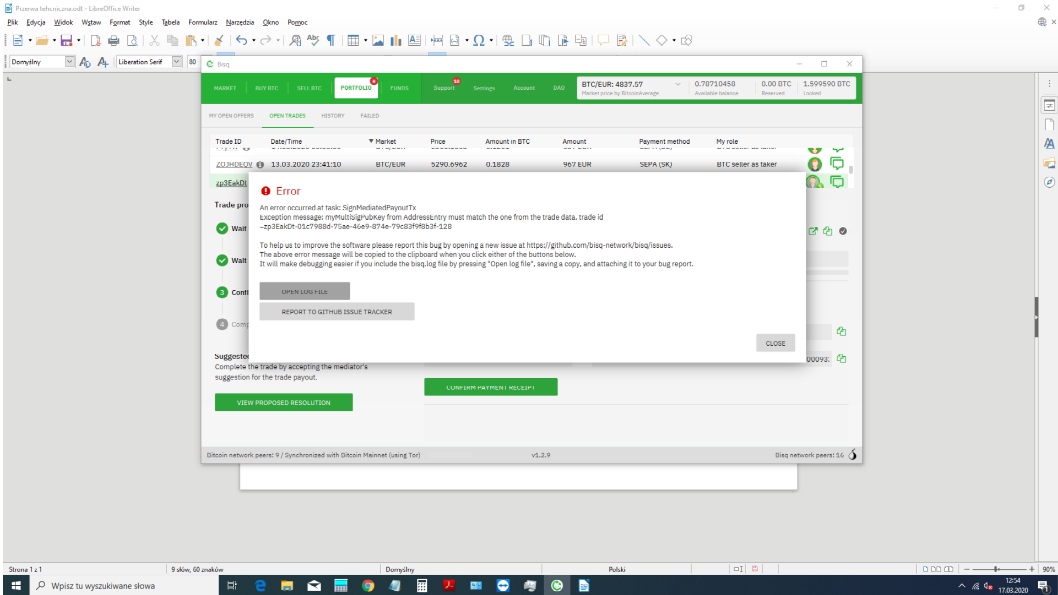 log-file-17-03-2020-zp3EakDt.txt
Steps to reproduce
Expected behaviour
Actual behaviour
Screenshots
Device or machine
Additional info
Thanks for opening your first issue here!

Be sure to follow the issue template. Your issue will be reviewed by a maintainer and labeled for further action.
@FlyingAtomPL can you come on Keybase #support channel to discuss privately?
@wiz, sure, no problem, but I am only a trader, not a developer, so please let me know hot to go to Keybase #support channel to discuss there?
OK, we are in touch on Keybase